Light straw color; pear, apple on the nose; apple, citrus on the palate.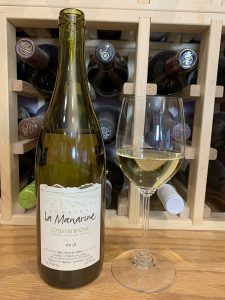 Dry; crisp, slight oak, minerality; low acidity. Fresh. Organic, made with minimal intervention. Fermented by indigenous yeast. No fining. Only light filtration, and only if needed. Blend of 50% clairette, 50% bourboulenc fermented in temperature-controlled cement. Aged up to a year on the lees in stainless steel. Very faint easy drinker. 13% ABV.
From the importer's website: "Domaine la Manarine was created by Gilles Gasq in April 2001. The winery and majority of his vineyards are located within the commune of Travaillan, on a splendid plateau northeast of Orange in the southern Rhone. Gilles is a talented vigneron who has honed his skills working as an assistant to Paul Jeune, the proprietor of Domaine Monpertuis in Chateauneuf-du-Pape."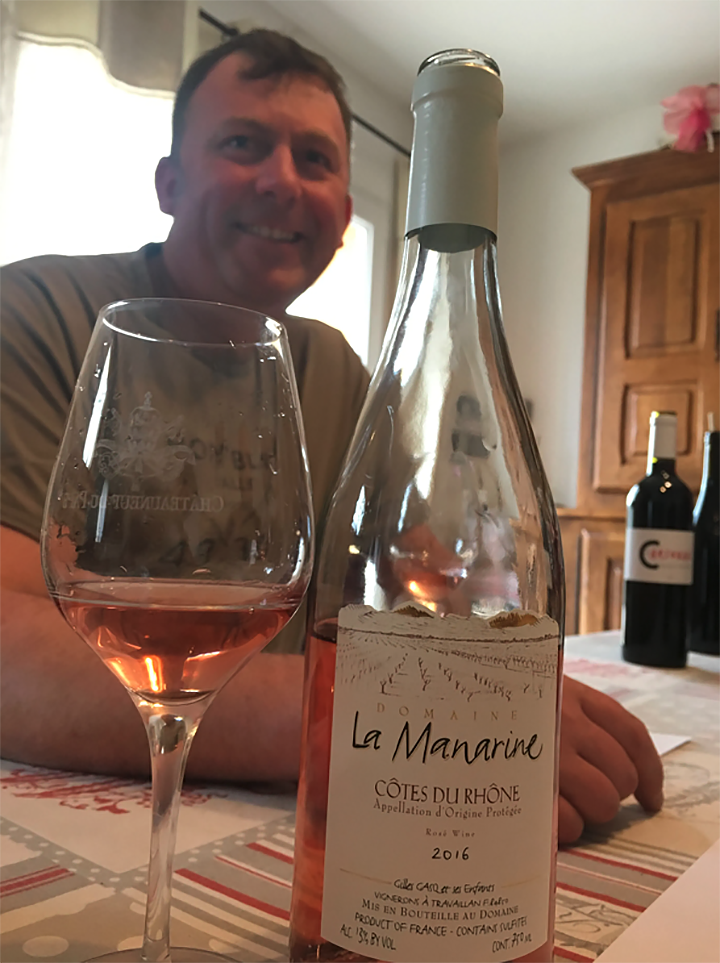 Domaine La Manarine encompasses about 82 acres, largely sited on Le Pan de Dieu. The soil is a deep layer consisting of more than 60% hard limestone galets (large, smooth pebbles—common in the Southern Rhône). The galets hold and reflect heat. They are signature features in vineyards of Châteauneuf-du-Pape and Gigondas regions.
Clairette—French for "light one"—is a light-colored grape grown throughout France, but acreage significantly declined in the 20th century. It remains important in the Rhône Valley—where grapes in this effort were grown—and Languedoc. The grape can be difficult, a major reason for its decline. This is the only white wine produced by Domaine La Manarine. It is a still wine, while clairette typically is made sparkling.
Domaine La Manarine Côtes du Rhône Blanc 2017 is light, refreshing, elegant. Tree fruits dominate the flavor profile. Very clean and easy. Pair with pork; rich fish; mature and hard cheese; poultry; cured meat and charcuterie board. $15-17