Deep gold color; lemon, citrus on floral nose; citrus, pineapple, peach on the palate.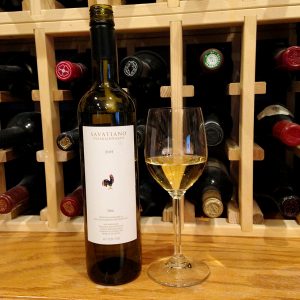 Dry; rich, fresh, and refreshing; no oak—100% stainless steel fermentation; good acidity (3.34 pH) and minerality. This is white wine that can age; it is reminiscent of white Bordeaux. Savatiano is the great white grape of Greece, particularly grown around Athens (Attica region), where Domaine Papagiannakos is located. The grape is resistant to drought and ripens late. It is the grape often used in retsina (wines with notes of pine resin, harkening back 2,000 years to when pine pitch was used to seal amphora—Plato and Aristotle likely drank it). The grapes for this effort come from plots in south-east area of Attica, 22 miles from Athens. Domaine Papagiannakos makes retsina wine, but this effort has no pine sap added to it.
Domaine Papagiannakos began in 1919. There was a transformation to modern technology in the 1960s, and today a third generation strives to take the domaine to a new, international level with a modern winery and aggressive international promotion. The effort includes commitment to bioclimatic architecture (the first in Greece) and responsible agriculture practices. The domaine's major focus is on the various, delicious ways to use the savatiano grape.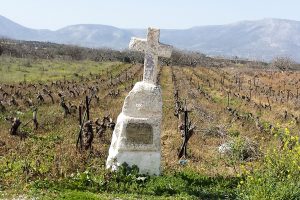 The winery's location in Attica, near the coast, adds salt/mineral notes to Domaine Papagiannakos wines. This contributes to the wine quality and character, and to it being a great food pairing partner, especially with seafood. The winery website will tell you this wine is made in some proximity to the "Temple of Artemis, the haunt of Dionysus, the patron saint of wine, where for centuries the ancient method of wine production has been maintained and the vine has been lovingly cared for." The winery is near the Olympic Equestrian Centre, the beautiful beaches of Mesogaia, and the archeological site of Vravrona. Taste this and you sip at the mother spring of Western culture.
Domaine Papagiannakos Savatiano, Markopoulo 2015 is straightforward presentation of savatiano grape; the winery makes other versions using older vines and different vineyards that cost somewhat more, but this is very serviceable as an every day, food friendly pour. Pair with wide range of Greek foods, fish, grilled sea bass, clam chowder, lamb, avocado and shrimp verrines, aragula salad with feta and pistachios, BLT sandwich made with pancetta, arugula, tomato. $11-14