Deep ruby color; black cherry, plum on the nose; black cherry, licorice, plum, tobacco on the palate.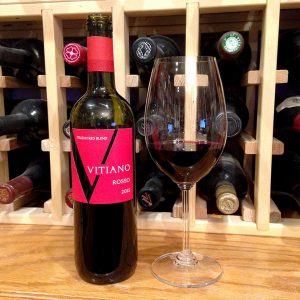 Dry; Super Tuscan blend of 34% sangiovese, 33% merlot, 33% cabernet sauvignon. Simple, serviceable red (rosso) that mellows nicely with decanting. Plenty of fruit, reserved acidity (3.7 pH), medium tannins. Smooth easy drinker thanks to 100% malolactic fermentation. No complexity or depth, but for the price you should not expect nuance and gravitas. Enjoy this for what is—in fact you can enjoy a couple, maybe three, bottles of this for the cost of one bottle of more sophisticated stuff.

Brothers Riccardo and Renzo Cotarella, founded Falesco in 1979. They emphasized the uniqueness and traditions of Italian varietals combined with the versatility of international grapes. The Falesco winery is located west of Umbria's Montecchio municipality and south of Orvieto, near the Tiber River and the border of the Lazio region. The Tyrrhenian Sea lies to the west and Italy's mountainous center to the east. Rome is 66 miles almost due south. The dry, perfectly drained, volcanic terroir offers ideal growing conditions for textured reds and crisp, refreshing whites.
Falesco proclaims its mission is to rediscover and promote Italian native varietals—there may be something like 2,000 different grape varieties in Italy, the most in the world. Well, OK, but effort this employs no obscure Italian grapes. The sangiovese-merlot-cab blend makes this a Super Tuscan blend, although not made in Tuscany.
Falesco Vitiano Rosso Umbria IGP 2015 is serviceable red wine, nothing spectacular, but the price certainly is nice for weekday comfort-food fare. Pair with meat-based pizza, tomato and meat pasta dishes, hamburgers, sliders, rich sausages, hard cheese, hearty meat-based soups. $9-12