Pale gold color with green hints; passion fruit, pear, light flowers on the nose; white fruits, apple, pear, passion fruit, peach on the palate.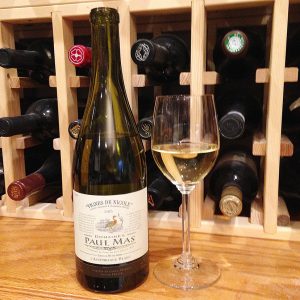 Dry; light body, simple, some creaminess; a wine that evolves in the glass. Blend of 40% chardonnay, 25% sauvignon blanc, 25% viognier, 10% picpoul. Merest hint of oak—chard and viognier spend three months in barrel after stainless steel fermentation; other juice is held only in stainless. Thanks to the delicate lightness and subdued acidity, exceptionally smooth. Fruit begins faint but begins to assert after some time in glass and warming.
Serve well chilled for a wine that is simple and refreshing, but let it breath and warm up a bit and you will be rewarded with the assemblage of fruits. I prefer the warmer version with its layers of flavors and interesting balance.
Château Paul Mas is located in the Languedoc between Pézenas and Montpellier, just six miles from the Mediterranean. The Languedoc has produced wine since the time of Christ. The Château Paul Mas story began in 1892 in St. Pons de Mauchiens, near Domaine de Nicole, where the Château is located—the extended family today owns more than 1,100 acres of vineyards. Jean-Claude Mas started Domaines Paul Mas in 2000 on 42 acres of family land.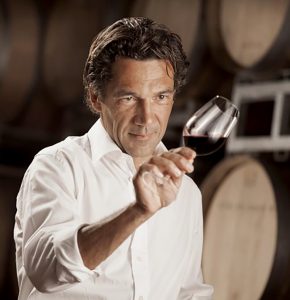 The winery website notes Jean-Claude escaped from his mother at age three to join his grandfather in the wine cellar. He studied economics and advertising at university, and wine became a hobby, but an active one. He created a wine club in northern France (far away from his Languedoc roots), an import company in England, and an import company for organic wines in Miami that brought in French wine and food products. He also was a professional automobile racer for three years.
Jean-Claude then returned to his first love. He first worked in Bordeaux; in the mid-1990s he began blending his family wines at Nicole Estate. He often is described as a pioneer in the New Languedoc—the ongoing movement to take the region from being a "wine lake" of mediocre stuff into its new era of higher quality, affordable wine. Fortunately, this new emphasis is succeeding, just as similar efforts are succeeding in other regions such as the Central Coast of California. The days of carelessly-made swill are passing away at many places, to the joy of wine drinkers worldwide.
Paul Mas emphasizes sustainable viticulture, is certified Terra Vitis and organic, and follows biodynamic wine production practices in select vineyards. Click here for column on organic vineyards.  Click here for column on biodynamic viticulture  The winery and vineyard also is a showcase for local and national artists and craftspeople. The website is worth a visit for its photography and videos.
Paul Mas Vignes de Nicole L'Assemblage Blanc 2015 evolves nicely and likely is wine no one will dislike, although some may prefer wine with more assertive character and distinctive flavors. It can be found in the value wine category at the right store, which makes it attractive for a soirée with light fare attended by a crowd of mixed wine sophistication. Pair with fish, shellfish, sushi, baked or roast chicken (not fried or barbecued), cheese, garden salads. $9-16