Deep ruby color; dark fruits, cherry on somewhat faint nose; plum, black cherry, blackberry, spice on the palate.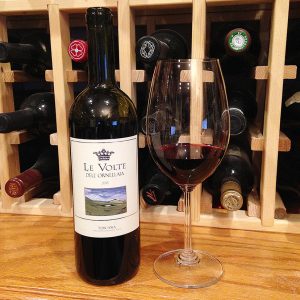 Dry; soft tannin, medium body, silky texture, super easy drinking Super Tuscan blend of 67% merlot, 20% cabernet sauvignon, 13% sangiovese.
Ornellaia was a pioneer in the Super Tuscan wines back in 1985, although the first Super Tuscans appeared in the 1970s. The Ornellaia estate is located in Bolgieri near the Mediterranean Sea, 65 miles west of Siena. Le Volte is Ornellaia's second tier effort, their higher end bottles sell for $200 or more and are difficult to get. This is made in much larger amounts and priced to introduce you to quality Super Tuscan wines.
Super Tuscans were a revolution in Italian winemaking in Tuscany where sangiovese was the legally required grape in strictly controlled Chianti wines. The introduction of French grapes—particularly cabernet sauvignon, merlot, and syrah—initially was controversial. Winemakers coined the name Super Tuscan (sometimes written Supertuscan) to distinguish their quality wines from the low-quality, vino da tavola (table wine) name they were required to put on the label when they did not follow the strict Chianti rules.
Today, most Super Tuscans use the legal appellation of IGT (Indicazione Geografica Tipica), a designation between DOCG and vino da tavola. Interestingly, some Super Tuscans are 100% sangiovese but choose the Super Tuscan name because of where the wine is made and to avoid adhering to the rules governing Chianti. Super Tuscans typically are made in a big, rich style. They often cost more than $100. Ornellaia's Le Volte is a classic Super Tuscan blend; in order to achieve the lower price, it is made in part with grapes that don't qualify for their higher end wines.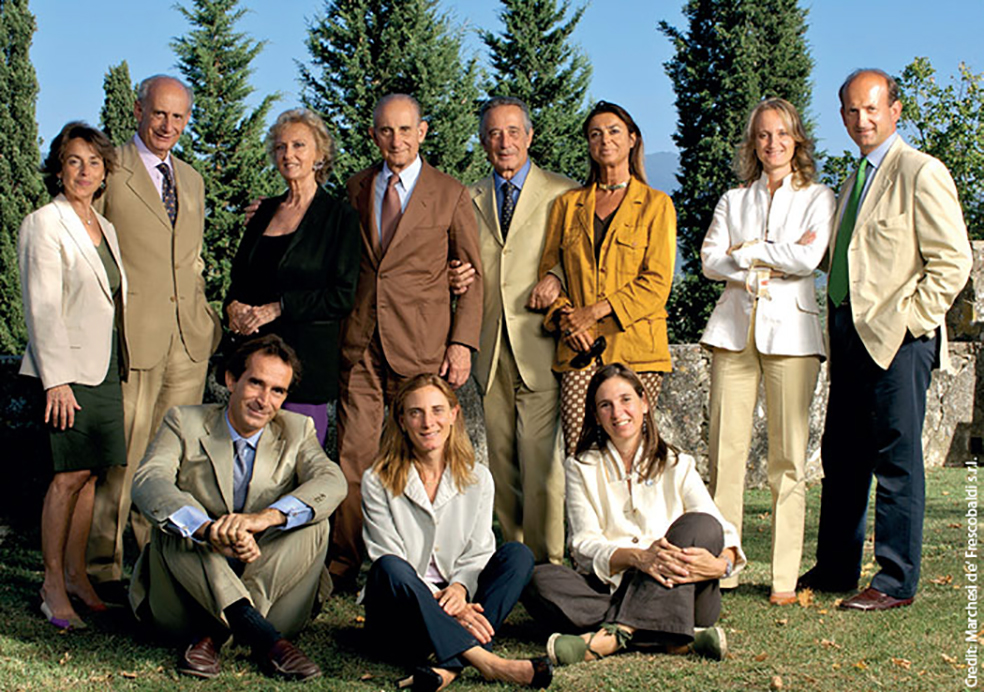 Ornellaia has a fascinating history in the story of major players in modern wine. Flying winemaker Michel Rolland joined the winery as a consulting oenologist in 1991. They introduced Ornellaia Le Volte dell'Ornellaia two years later. In 1999, Robert Mondavi gained a minority share in Ornellaia, which he turned into full control in 2002, and then transferred half of his interest in 2002 to Marchesi de' Frescobaldi. When Constellation Brands acquired Robert Mondavi in 2005, Marchesi de' Frescobaldi gained full control of the winery. The Frescobaldi family have been major players in Florence and Tuscany for more than 700 years. They began producing wine in Tuscany in 1308; some of their customers included Michelangelo and Henry VIII. In a foreshadowing of the Super Tuscan revolution, they began planting chardonnay, cabernet sauvignon, and merlot vines in the region in 1855. They control Ornellaia today.
Ornellaia Le Volte dell'Ornellaia Toscana 2015 is very easy drinking effort that people put off by big boy reds will enjoy. There is very restrained oak, malolactic fermentation in stainless adds to the smoothness and preserves the fruit. Pair with pizza, pasta with tomato sauce, red meats, cheeses. $28-32