Medium garnet color; cherry, raspberry, whiff of smoke on relatively faint nose; cherry, redcurrant, strawberry, licorice on the palate.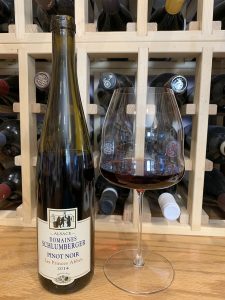 Dry; supple, slightly tart, smooth tannin. Balancing acidity (3.02 grams per liter); should do nicely with food. Medium body. The fruit is reserved—Alsace is cool climate wine country better known for its white wines—and the 2014 vintage was a cool vintage. The fruit is there, but it is nothing like the ripe, fruit-forward pinot noir you can get from California or from some wineries in Oregon. The focus here is freshness and elegance; 13% ABV.
This bottle lurked in my wine cooler perhaps longer than it should have. At six years old it likely is near the end of its "best by" time. If you find a younger vintage, don't hesitate to give it a pour. The price is nice for a quality pinot noir. Charming rather than assertive. Refined. I personally favor pinot noir that is more reserved, less assertively fruit forward, and restrained in alcohol, so this checks several of my boxes, especially at its price point.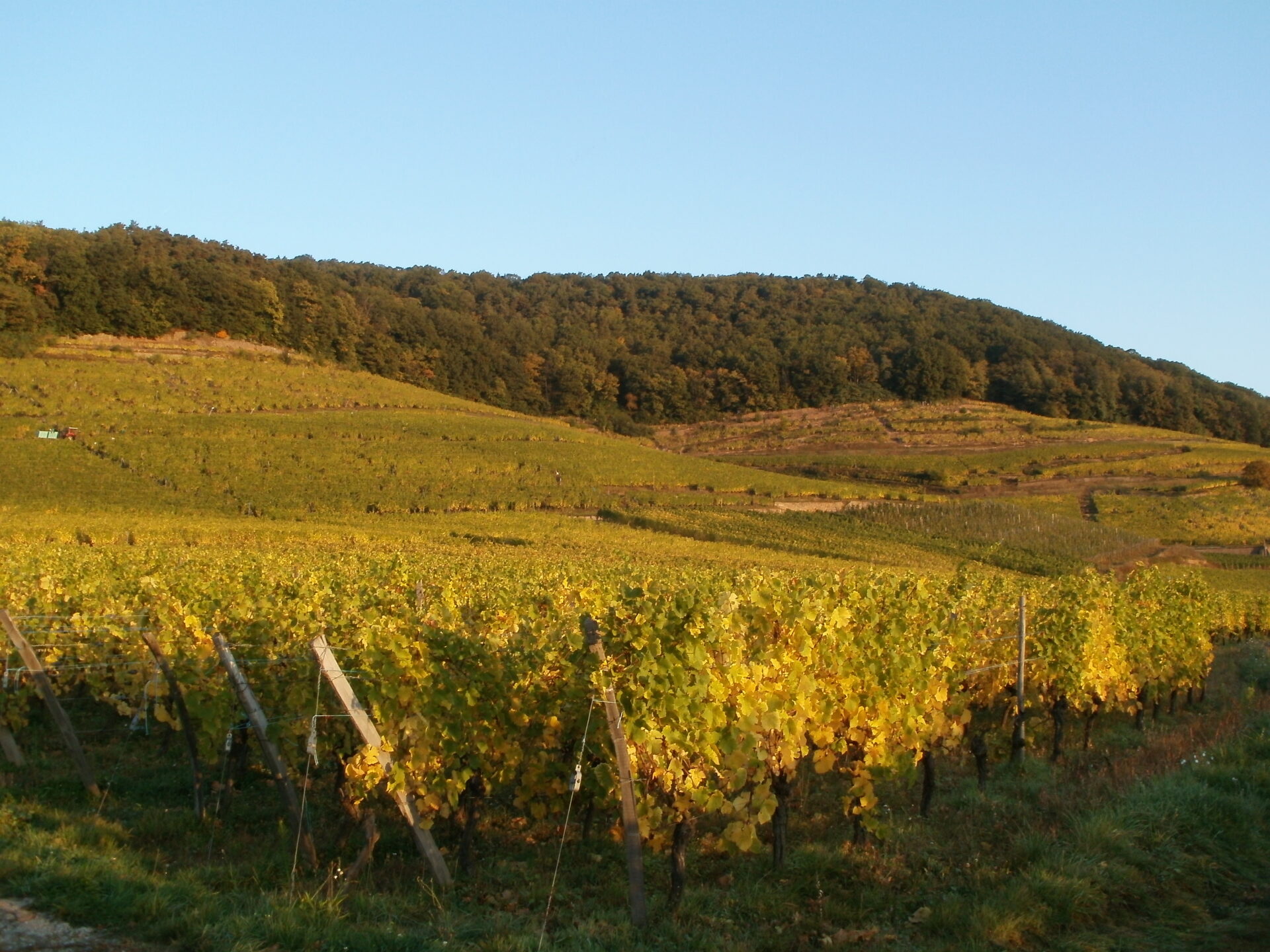 Alsacian pinot noir vines almost certainly came from Burgundy because of the similarities in topography and climate between Burgundy and Alsace. The vines for this effort are less than 20 years old. Pinot noir was prominent in Alsace during the Middle Ages, then fell out of favor save for a handful of places. It is regaining its place in the region in northeastern France on the Rhine River plain. Alsace borders both Germany and Switzerland, and its culture and wine tradition reflects French, German, and Swiss influences.
Domaines Schlumerger is located in Guebwiller, Southern Alsace. It is cooler climate, but not as cool as German border vineyards. Reflecting the climate and Alsace, Domaines Schlumerger is better known for its pinot gris and gewurztraminer, and riesling offerings.
The Schlumberger family comes from Souabe, a German region that is part of Bade Wurtemberg. Claus Schlumberger first settle in the Guebwiller region in the 16th century, a time when Catholic monks dominated the area. Claus was Protestant, thus moved to Mulhouse. Members of the Schlumberger family joined him.
Nicolas Schlumberger was born in 1782, then moved to Guebwiller in 1810. He built a fabric factory, but he also bought a 50-acre vineyard and began developing a winery. Nicolas had nine children. When he died in 1867, three sons took over the cloth factory, while son Jean inherited the vineyards, lands, and forests. Children had children, and some left for more opportunities. Three family members immigrated to the U.S., where they founded the Schlumberger oil company that today primarily produces electric meters, phone boxes, parking meters, and still has a presence in the oil field. That line of the family is the name most Americans would recognize.
Earnest Schlumberger (1885-1954) was a winery fanatic and was most responsible for the operation today. He expanded the vineyard holdings to more than 270 acres. In 1971, Eric Beydon-Schlumberger took over operations, replanted aging vines, and led the winery to its current international reputation. Eric's brother, Alain Beydon-Schlumberger took over the operation in the 2000s and initiated significant investments in the cellar and the winery. Today, Thomas and Severine Schlumberger represent the seventh generation in charge of the family estate.
Domaines Schlumberger Pinot Noir Les Princes Abbés, Alsace 2014 is clean, easy drinker with appealing tartness. The wine is both tart and silky, an interesting juxtaposition. The fruit is demure, likely reflecting the cooler climate in Alsace that favors acidity over ripeness. Pair with rack of veal in its juice with potato puree; poultry; chicken, veal, or rabbit fricassee; beef pot-au-feu; turkey; salmon and other rich fish; lamb; wild game; mushrooms. $24-28
Domaines Schlumerger website; rich with information