Magenta-red color with translucence; raspberry, tea, cherry on the nose; blackberry, raspberry, red cherry, roasted tomato, balsamic on the palate.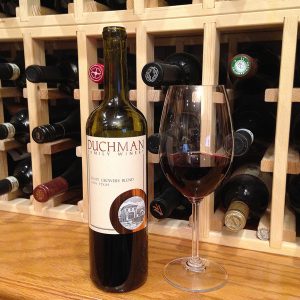 Big tasty wine; tame-but-grippy tannins, smooth acidity, medium-full body. Sangiovese frames the blend, abetted by montepulciano, dolcetto, and grenache—all grapes grown in Texas, as is Dochman's wont. Plenty of flavor here showcasing Duchman's penchant for Italian grape varieties, while Southern Rhône grenache makes a cameo appearance to provide mellow fruitiness and pleasing smoothness.
The name highlights that this likely is imaginative use of extra grapes from growers who provide for Duchman's rightly acclaimed varietal plays: 51.5% of the grapes come from Oswald Vineyard (Texas High Plains AVA), provider for Duchman's Montepulciano and Aglianico; 24.7% of the grapes come from Bingham Family Vineyard (Texas High Plains AVA), provider for Duchman's Trebbiano, Vermentino, and Viognier offerings; 12.7% of the grapes come Reddy Vineyard (Texas High Plains AVA), provider for Duchman's Sangiovese effort; 11.1% of the grapes come from Salt Lick Vineyard, relatively nearby to Duchman, both are near Driftwood, Texas (southwest of Austin, southeast of Dripping Springs, and north of San Marcos for all you Texas geography lovers). Driftwood has a post office, a Baptist church, and a wedding venue and party place (Stonehouse Villa), so if you illegally look down at your cell phone driving through, you likely will miss it.
Duchman Family Winery is the dream of Drs. Stan and Lisa Duchman, who wanted to make world class varietal wines in Texas based on classic Old World grapes. Stan is an interventional cardiologist and Lisa a doctor of optometry. Dave Reilly is the winemaker. According to the winery website, Reilly strives "to make wines that are true to their varietal character using the highest quality grapes grown in Texas." And so they do.
As do many Texas wineries, Duchman makes money off both its wines and its winery as a venue and tourist attraction. With its sweet spot geographic location described above (San Antonio to the southwest is another easy-drive big city nearby), Duchman is one of the top wine destinations in the state. HGTV ranked Duchman as one of the 20 most picturesque wineries in the country—country, not just Texas. As amazing as it may seem to some, the Texas Hill Country AVA is the nation's second-most visited wine region, trailing only Napa. Duchman is one of the AVA's star attractions.
Duchman Family Winery Grape Growers Blend is tasty crowd pleaser that has structure and sophistication to please the discerning without distressing those who tipple white zin and Barefoot when no one is looking. Like almost every red, it gets mellower and even more easy drinking after decanting, so that is suggested. $20
Other photos: Duchman winery; Duchman winery interior, Duchman tasting room