Medium gold color; honeysuckle, peach on the nose; lemon, lime, orange, apricot, grapefruit, honey on the palate.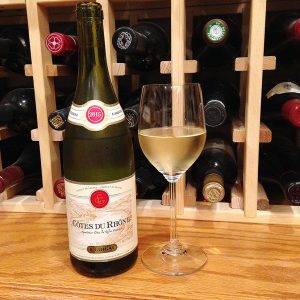 Great freshness; medium body; good acidity, minerality; no oak influence—100% stainless steel. Elegant, rounded, balanced. Yet another great drinker and great value from E. Giugal. Blend of 65% viognier, 15% roussanne, 8% marsanne, 8% clairette, 2% bourboulenc, 2% white grenache. Rich, satisfying finish.
E. Guigal was founded by Etienne Guigal in Ampuis, the village in the heart of the Côte-Rôtie appellation in the northern Rhône, a place where wine grapes have been grown for some 2,400 years. Etienne's son, Marcel, took over management of the operation in 1961 when Etienne suddenly was struck with total blindness. Marcel's wife, Bernadette joined the team in 1973, and today their son, Phillipe, is the winemaker working alongside his wife, Eve. In 1995, E. Guigal acquired the famed Château d'Ampuis, a landmark in the Côte-Rôtie; it houses the business offices today while wine making and cellaring remain in the village of Ampuis. All of this is in the very heart of the Côte-Rôtie region of the northern Rhône.
Côte-Rôtie vineyards are among the steepest in the world, sometimes reaching 60% slopes; only some vineyards in Germany's Mosel Valley rival them in difficulty. Grapes must be harvest by hand; pulley systems are used by the pickers to both stand on the granite hillsides and to deliver the grapes. The hillsides face southeast and are, indeed, "roasted" in summer. Côte-Rôtie means "roasted slope" in French. While the sun roasts the slope during the day, chilly mistral winds (cold winds from the north and northwest that can reach 55+ mph) drop temperatures significantly at night, a great formula for wine excellence. The region escaped world-wide attention until E. Guigal put it on the map in the 1980s by the sheer quality and value of its wines. When you think Côte-Rôtie, you think E. Guigal, a world-renowned operation.
While only 2% of Rhône wine production is white grapes, 25% of E. Guigal production is white, and they are masters at white—and reds and rosé, too, for that matter. Critics believe E. Guigal has the deepest appreciation of viognier of any producer in the world. The vines that produce the various grapes for this effort are in various soils, primarily sedimentary, limestone, and granite. The vines average 25 years of age. Yields are held to as low as 1.8 tons per acre—which is lower than most Grand Cru Bordeaux, which makes the price point for this white winner all the more amazing. Never hesitate to buy an E. Guigal effort.
E. Guigal Côtes du Rhône Blanc 2015 continues to produce fantastic wines at astonishing prices for the quality. Actually, astonishing quality at any price. This white will work wonders with starter courses, fish, Asian fusion. If you think I sound like a Guigal aficionado, you are correct. $12-14