Deep ruby color; black cherry, tobacco on the nose; sour cherry, roast bell pepper, raspberry, chocolate on the palate.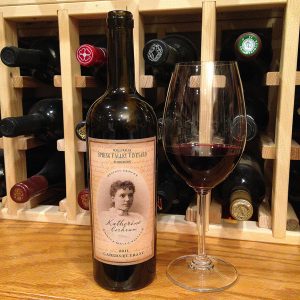 Dry; stylish tannin; good acidity for wine this rich; elegant, very smooth, medium-full body; great balance; textbook expression of cabernet franc as pure varietal. Sour cherry takes over on longish finish. There is whisper of cut wheat on the nose and in how the tannin presents, a product of the fact Spring Valley is a grain farm that also grows grapes. The oak is like background music—there to enhance the mood but never dominating the action. All the fruit used in Spring Valley wines is estate grown. The winery and vineyards are located 12 miles northeast of Walla Walla, Washington.
The land the Corkrum, Derby, and Elvin families farm today is rich with history dating back to the mid 1800s, when current vineyard owner Shari Corkrum Derby's grandfather Uriah Corkrum began farming in the area.
Uriah experienced success farming in the 1880s, then lost everything in the depression of 1893. Uriah persevered and acquired the land now known as Spring Valley in 1910.
In 1993, Shari and Dean Derby planted the first grapes at Spring Valley. The first vintage of estate grown and bottled Spring Valley Vineyard wines were produced with the 1999 vintage. The Derbys' son Devin Corkrum Derby served as winemaker until his untimely death in a car accident in 2004. Devin's assistant and friend Serge Laville, who says he learned how to make wine in his native France but learned how to make wine in Washington from Devin, took over as winemaker and continues the legacy of Spring Valley Vineyard today. Serge emphasizes the expression of the land, fealty to the grape, maximum fruit, appropriate oak.
Spring Valley made cab franc early on, but in 2009 they changed the brand name to Katherine Corkrum to honor Uriah Cockrum's wife. All of Spring Valley's wines honor family members in some way. Their wine club is called the "Family Circle."
Spring Valley Vineyard Cabernet Franc Walla Walla Valley Katherine Corkrum 2011 is extremely well made and gets better with air and decanting. It shows how delicious cab franc can be as a varietal. It is not as brawnily assertive as a cab, not as mellow as merlot; rich fruits flavors throughout. $50-52
Spring Valley Vineyard website