Medium gold color; sweet floral nose; lemon-lime, almond, apricot on the palate.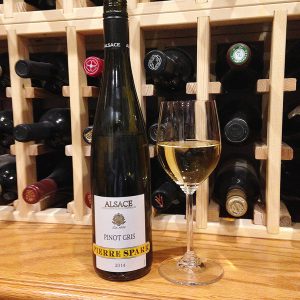 Dry, but on the sweeter end of dry (8.8 g/L residual sugar); there is a nice acidity-minerality balance with the touch of fruit sweetness. Soft in the mouth; medium body; sleek, polished. All stainless steel aging, no hint of oak. No skin contact, no malolactic fermentation, so you get 100% presentation of clean, clear, crisp pinot gris grape flavors. Acidity and fruit carries through to satisfying finish, and that hint of fruit and residual sugar enhance the finish.
I want to emphasize this is not a sweet wine. While definitions vary somewhat, one accepted definition of "dry" is 1-10 g/L of residual sugar, and this has 8.8. The next level is off-dry or medium dry with 10-35 g/L. This is dry wine.
The Estate Pierre Sparr story goes back to 1680. François Pierre Sparr increased the vineyard acres in 1785. According to the estate's website: "Generations later, Charles Sparr developed the business, increasing the activities on the area of trade and regarding wine aging. His son Pierre took the succession at the age of 20. His distinct sense for business made him a pioneer of the 'estate bottling' of wines in Alsace. His motto was: 'invest, progress and maintain.'
"During WWII Sigolsheim and its vineyards were completely destroyed. With a lot of courage and obstinacy Pierre Sparr rebuilt one of Alsace's most beautiful and prestigious Domaines. His sons René and Charles contributed to the enlargement of the vineyards and the development of the European markets which gave a new dimension to the company. Nowadays, with the help of the 9th generation, the aim is still to perpetuate tradition, passion and emotion."
Alexandra Boudrot is cellermaster at Pierre Sparr today. In her more than dozen years with the estate, she first helped lead the vine growing, then took over the wine making.
Alsace and Italy are the leaders in pinot gris/pinot grigio production. Gris/grigio are French and Italian for "gray", the color of the grape, although the color really is a grayish-blue. Both versions go well sitting around the pool or relaxing in the back yard on a summer day; they also go well with spicy foods—Chinese and Thai, for example— also with shell fish and as a starter or paired with hors-d'oeuvres. In general, Alsace pinot gris have this hint of sweetness and fruitiness while there are Italian pinot grigios that are "bone dry"—less than 1 g/L. This is very general statement; your task is to explore both. What a happy assignment. Oregon makes nice pinot gris, too, BTW.
Pierre Sparr Alsace Pinot Gris 2014 is a reason pinot gris should be part of your wine répertoire. The balance of fruit, hint of residual sugar, and acidity is spot-on, a hallmark of well-made wine no matter the varietal. $17-20
Link to U.S. importer; a rich online source.