Deep ruby color; plum, olive, peppercorn, whiff of oak on the nose; red fruit, plum, raspberry, blueberry, olive, pepper, spice, hint of meat on the palate.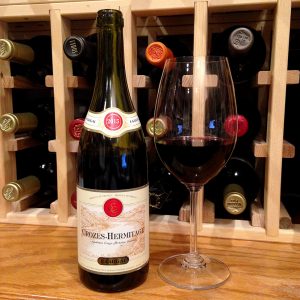 Dry; fresh, juicy and svelte on the attack; licorice and tobacco on the finish. Medium body. Well behaved but assertive tannin with balancing acidity. Superb example of a Crozes-Hermitage 100% syrah. Spent 24 months in French oak, but oak is nicely refined and integrated. Another E. Guigal superb quality-for-price pour.
E. Guigal was founded in 1946 by Etienne Guigal in Ampuis, the village in the heart of the Côte-Rôtie appellation in the northern Rhône, a place where wine grapes have been grown for some 2,400 years. Etienne's son, Marcel, took over management of the operation in 1961 when Etienne suddenly was struck with total blindness. Marcel's wife, Bernadette joined the team in 1973, and today their son, Phillipe, is the winemaker working alongside his wife, Eve.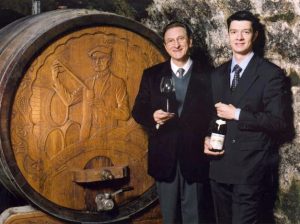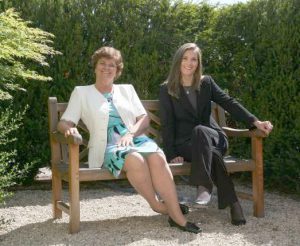 In 1995, E. Guigal acquired the famed Château d'Ampuis, a landmark in the Côte-Rôtie. The château houses the business offices today while wine making and cellaring remain in the village of Ampuis. All of this is in the very heart of the Côte-Rôtie region of the northern Rhône. Crozes-Hermitage is located about 30 miles south of Côte-Rôtie and adjacent to Hermitage. Both Côte-Rôtie and Hermitage regions have more storied reputations for northern Rhône wines, but Crozes-Hermitage is beginning to compete—especially at competitive price points—thanks to efforts like this.
Hermitage has been considered an elite wine region since the mid-18th century. Delivering consistent quality, E. Guigal put Côte-Rôtie on the wine map in the 1980s and followed with Crozes-Hermitage beginning in 1999. E. Guigal deserves a lot of the credit for the Côte-Rôtie and Crozes-Hermitage quality ascendency. All three regions—Côte-Rôtie, Hermitage, Crozes-Hermitage—are basically next to each other as you travel south on the northern Rhône in northeast France.  In 2017, Drinks International named E. Guigal the most-admired French wine brand. The judging criteria included: consistently improving quality; reflection of regional terroir and country of origin; marketing and packaging and broad global brand appeal. No small thing.
E. Guigal Crozes-Hermitage 2013 is a serious syrah. You need to enjoy hearty, meaty, assertive black and red fruit wines to have this pleasure your palate—but if that is you, seek out this wine. And seek out this maker, even if you cannot find this specific wine. E. Guigal knows how to make northern Rhône wine. Pair this with red meats, venison and other wild game, hardy stews, cassoulet (a slow-cooked casserole typically made with pork, but also with duck, goose, or mutton), beef short ribs braised in red wine and herbs, lamb barbecue, French onion soup, hard cheese. $22-30