Happy Valentine's Day. Yes, it is a "day" conjured by greeting card companies, candy makers, and flower shops, but here it is and you better do something about it if you want the coming weeks to go smoothly with whomever accompanies you in your journey through life.
The combination of wine and chocolate sounds more romantic than it really is. The key is the wine must be sweeter than the chocolate, otherwise both will taste bitter. The default chocolate pairing is port wine from Portugal. Expensive, sweet, with balancing acidity. Pair chocolate with port without much trepidation. And, at around 20 percent ABV, port may help get you to the next chapter in your Valentine's Day novella.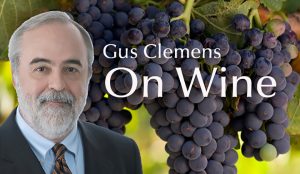 Sparkling wine is another basically safe ploy in your Valentine's Day play. The pairing with chocolate is much trickier, so the suggestion here is to enjoy the sparkling, then eat the chocolate. If you are swinging for the fences on Valentine's, put a sparkling item such as a diamond in your sparkling wine glass. Your lover can enjoy bubbles and baubles, and if this works out well for you, thank me later.
Another neat trick is to pair roses with rosés. It does not matter if the rosé of choice is white zinfandel at less than $10 or Charles Heidsieck Rosé Champagne at well more than $100, it is the thought that counts. Actually, what counts is that you remembered the special person(s) in your life. That is the story greeting card companies, candy makers, and florist assert, and they are sticking to it.
Tasting notes:
• Ruffino Prosecco Extra Dry NV: Delightful, dependable, classic Prosecco; extra dry means touch of sweetness to pair with macarons, mousses, and parfaits. $10-13 Link to my review
• Vilarnau Brut Reserva Rosé Cava: Classy cava with nicely refined flavors; unique label, riveting rosé color. $14-19 Link to my review
• Pedernales Cellars Texas Tempranillo 2014: Forget sissy stuff, slap some red meat, lamb, barbecue on the platter; pair with seriously good Texas wine at a fair price. $17-20 Link to my review
• McBride Sisters Collection Brut Rosé NV: Excellent, affordable, delicious fruit, good acidity, tiny bubbles go on forever. Terrific backstory of the makers. $20-25 Link to my review
• Charles Heidsieck Millésimé 2006 Rosé: Delicate rose-coral color, persistent bubbles. Charles Heidsieck Champagnes regularly rate among world's finest wines. $105-150 Link to my review
Last round: After a couple of glasses of wine, I can see the future two years from now. I have 2020 vision.