Medium-deep purple color; red and black fruits on somewhat bashful nose; blueberry, cherry, plum, blackcurrant, blueberry, raspberry, leather, pepper on the palate.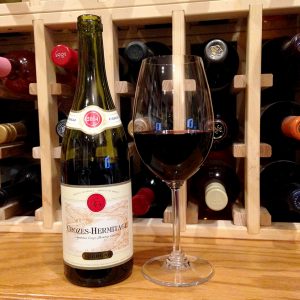 Dry; medium-full body; strict tannins; a black olive element; some acidity but not major element. Restrained oak. Balanced example of northern Rhône syrah. Tasted the 2015 vintage of this wine three weeks ago, and this is not as emphatic, not as rich, flavorful, and complex. This is good wine, but the next vintage is better, and likely more easily found.
E. Guigal was founded in 1946 by Etienne Guigal in Ampuis, the village in the heart of the Côte-Rôtie appellation in the northern Rhône, a place where wine grapes have been grown for some 2,400 years. Etienne's son, Marcel, took over management of the operation in 1961 when Etienne suddenly was struck with blindness—although Etienne regained some sight and participated in the winery until his death in 1988. Marcel's wife, Bernadette joined the team in 1973, and today their son, Phillippe, is the winemaker working alongside his wife, Eve. Philippe speaks superb English and when interviewed provides precise and informative explanations of both Guigal, the northern Rhône, and wine in general. Worth a watch or listen—a Google search will give you numerous links. One is included below.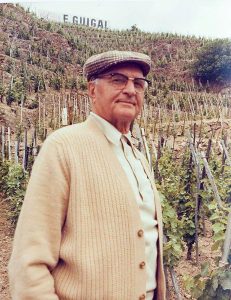 Widely respected as a mega négciant, Guigal put Côte-Rôtie on the wine map in the 1980s by delivering consistent-to-superior quality. Until then, the region was something of a wine backwater, particularly because the the prices needed to make winemaking pay in the testing, highly sloped region. E. Guigal deserves a lot of the credit for the Côte-Rôtie and adjacent Crozes-Hermitage—source of this offering—quality ascendency. Three regions—Côte-Rôtie, Hermitage, Crozes-Hermitage—are basically next to each other. Guigal bottlings are the benchmark pours for the entire region.
Guigal website notes: "Guigal first produced a Crozes-Hermitage in 1999 after the acquisition of low-yielding, hillside vineyards. Since then they have continued to purchase similar quality vineyards, exclusively on hillsides, on soils that tend to limestone, clay silt and sandy gravel, with vine age averaging 35 years. The vineyards are grouped in the north of the appellation, specifically around the villages of Gervans, Mercurol, Larnage and Crozes-Hermitage itself.
Farming: The Guigal's work with organic and sustainable growers and practices. Grape Variety: 100% Syrah
In 2017, Drinks International named E. Guigal the most-admired French wine brand. The judging criteria included: consistently improving quality; reflection of regional terroir and country of origin; marketing and packaging and broad global brand appeal. No small thing.
E. Guigal Crozes-Hermitage 2014 is tamer, less flavor-filled than the 2015 vintage; solid wine, just not as "wow" as Guigal would produce the next year. While the 2015 would work best after decanting and paired with food, this milder vintage can work as a solo sipper and doesn't require decanting. I don't think it is the extra year in bottle; I think it is illustration of the vagaries of vintages. It certainly will work with food, but not as well as the 2015. Guigal consistently delivers superb value-for-price play, and this is no exception, even if I do not rate it as high as the 2015. In fact, since this is a milder and easier drinker, there may be folks who prefer this more laid-back style to the 2015. Different strokes, different folks This is Guigal entry-level Crozes-Hermitage. Pair with red meats, spareribs, braised beef, lamb, barbecued and braised chicken, pork, grilled or seared tuna, hamburgers and sliders, venison and other wild game, grilled vegetables, hard cheeses such as gouda. Avoid shrimp, lobster, delicate dishes and sour dishes. $23-27
Wine Spectator video of Philippe Guigal