Deep ruby color; cherry, red fruits, hint of almond on light nose; cherry, strawberry, raspberry, some almond bite on the extended finish.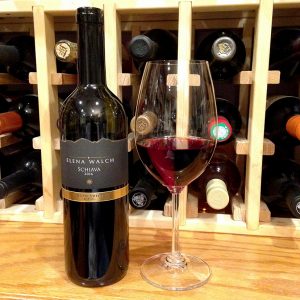 Dry; light and easy drinking; soft acidity and tannins make it ideal to serve chilled on a hot day. This fermented in stainless steel and then matured in large oak casks, so there is restrained oak. Interesting, light red wine made with 100% schiava grapes, unique to the Alto Adige DOC. Schiava is very similar to pinot noir in taste, texture, and body.
Alto Adige is located in northern Italy, just south of the Austrian border. The autonomous region also borders Liechtenstein and Switzerland, but the wine region is noted for its Austrian influence. Trento is the region's capital. Alto Adige is noted for its sawtooth Dolomite mountains and the adjacent southern Alps. German and Italian are the local languages, and Austrians/Germans call the area Südtirol (South Tyrol).
In addition to the beauty of the mountains, Alto Adige is noteworthy for apple orchards and for challenging vineyards that grow on the steep hillsides—some of them 3,300 feet—making almost all vineyard work done by hand rather than machines. The slope elevations means low temperatures at night, but in high summer the day temperatures flirt with 100 degrees, a diurnal shift that is a harbinger of quality wine. Winemaking traditions, according to archaeological finds, date back to Roman times, and perhaps as long as 3,000 years ago.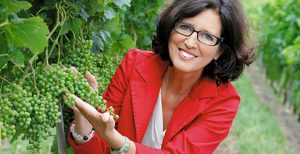 The Elena Walch winery tradition dates to 1869 and now is into the fifth generation of winemakers. Elena Walch founded her namesake vineyard and winery in 1986. She now works with her two daughters, Julia and Karoline. Elena was a female trailblazer in Alto Adige, noting "I was completely alone in this world of only men, but this was the reason why I started to realize that I had to stand up for myself, I had to learn, I had to do it, and I wanted to do it!" All of which is both interesting and inspiring since she began her career as a professional Milanese architect. She was hired to restore the famed Castel Ringberg by Werner Walch. Architect and client then fell in love, and the rest is Alto Adige wine history.
Elena Walch Schiava Alto Adige DOC 2016 is light and nimble; it drinks like a quality pinot noir at a fraction of a quality pinot noir price. Good fruit, easy drinker, pleasant on the palate—there is nothing not to like in this wine from a soaring mountain grown vineyard led by an inspirational woman and her daughters. Works as an aperitif or with antipasti; pair with Mediterranean cuisine, pasta dishes, light fish; because of its lightness and respectful acidity, this should work with almost anything except heavy red meats. That includes Thanksgiving and Christmas leftovers since it will not strive to overpower the food. Serve chilled. Superb value-for-price pour. $15-16
Charming video by James Suckling that includes segment about Elena Walch (at 8:50 mark).