Dark purple color; blackberries, black cherry, bright red fruit on the nose; black cherry, plum, spice, chocolate, coffee, vanilla on the palate.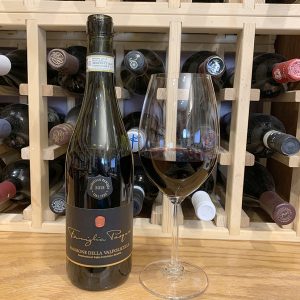 Dry; concentrated, plump, fruit-forward; made in modern amarone style. Oak notes—20 months in wood—but oaky is buried by the intense ripe fruit attack. Rich, velvety, medium-full body. Creamy tannins that score well on the finish. Balancing acidity. Valpolicella blend of 65% corvina, 25% rondinella, 5% corvinone, 5% negrara.
This wine is straightforward with its ripe fruit attack, rather than layered or complex. Pleasurable, generous, hedonistic. The fruitiness of this effort, plus the 15% ABV give it the classic illusion of being sweet. The sense of "sweetness" is not based on residual sugar but on what's called phenolic or "physiological" ripeness, achieved when the grape's skins and stems are ripe. Alcohol, too, tastes sweet. This is excellent introductory wine to amarone.
Amarone is a big thing today with production more than tripling in the past 16 years. The wine is made in the Veneto region of northeastern Italy, in Valpolicella, a viticultural zone of the province of Verona. Valpolicella is northwest of Venice and north of Verona; it now is a Denominazione di Origine Controllata e Garantita (DOCG), the Italian designation of an apex special production area. Grape harvest soared from 8,000 tons at the end of the 20th century to more than 35,000 tons today.
Amarone means "the great bitter," although amarone is not bitter—the name distinguishes it from Recioto, which is sweeter desert wine made in same region with similar dried grapes. Amarone is made using the appassimento method in which grapes originally were dried on bamboo or straw mats for weeks or months to concentrate sugars and flavors. Loosely speaking, amarone is made from raisins.
Given higher sugar content created by appassimento, amarone is high alcohol—usually 15 percent or more—with full body and concentrated flavors. Work that goes into making the wine traditionally meant it was expensive and relatively hard to find. Then computers and fans and plastic drying trays came into vogue in Veneto, modernizing the effort and dramatically affecting production and availability. This saw a relatively brief 90 days of appasimento, but the new systems allow this to achieve what once took longer.
Famiglia Pasqua is notable for its amarone and its appassimento production technique. The winery history from their website: "Pasqua Vigneti e Cantine is an historic winery that produces high quality Veneto and Italian wines and one of the main players in the Italian and international wine market. A family passion. A century long history."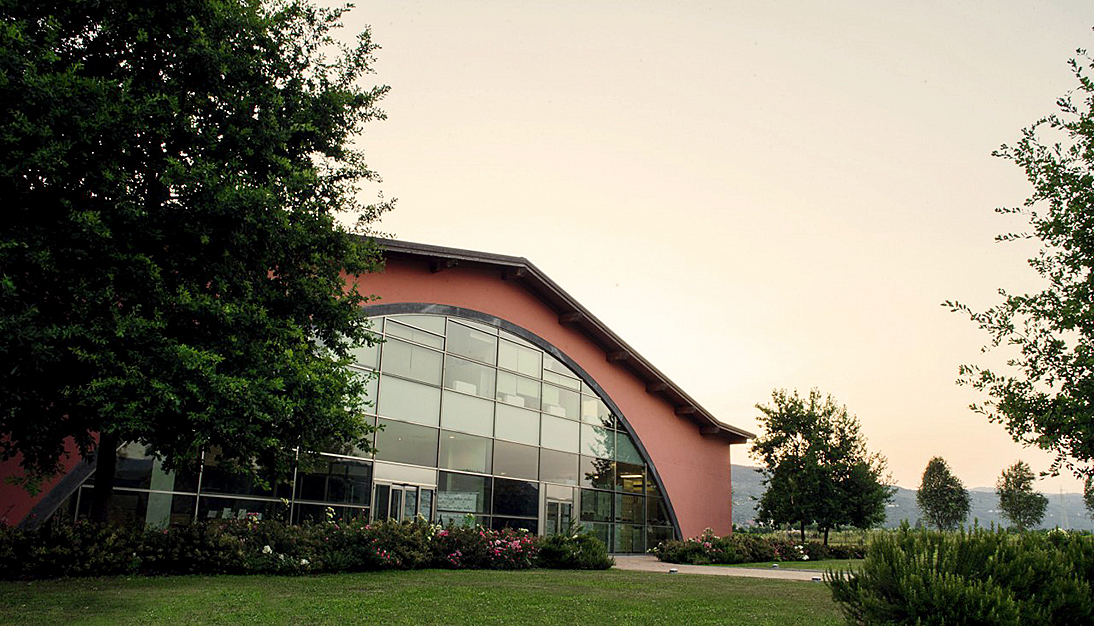 The first generation of Pasqua brothers came to Verona in 1925, first as wine traders, then as wine makers. The second generation pushed into export business in the 1960s, then into innovative research in the 1980s. In the 2000s, the company created a new headquarters and manufacturing plant in San Felice, in the heart of the family vineyards. The third generation ventured even more heavily into international trade with the opening of Pasqua USA in New York City in 2009. Pasqua sells up to one-third of its production in the U.S. Umberto Pasqua and his sons Alessandro and Riccardo run the company today.
Famiglia Pasqua Amarone Della Valpolicella DOCG 2015 delivers the sweet, smokey flavors and rich, velvety mouthfeel you expect from a modern amarone. Also, the dialed back, creamy tannins. Extremely fruit-forward; floridly fresh, pleasurable, generous, hedonistic.
Amarone is a wine you can enjoy on its own as a "quiet meditation wine"; with mature cheese—taleggio, reblochon, murassano, pecorino de Fossa, aged parmigiano reggiano. Enjoy after a meal with relaxed, thoughtful conversation. Food pairings include rich steaks; wild game, especially in stews; barbecue; pork (glazed ham); veal; poultry (coq au vin). Avoid pairing with fried foods, salmon and other seafood, salads or minestrone soup. $47