Medium ruby color; raspberry, plum, cherry, blackberry, vanilla on the nose; plum, cherry, raspberry, blackberry, oak, vanilla, clove on the palate.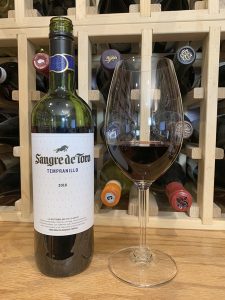 Dry; mild tannins, comfortable acidity (3.64 pH). Medium body. Very smooth easy drinker. Ripe fruits provide illusion of sweetness, but with 0.5 g/L of residual sugar this is firmly in the dry wine universe. Eight days of maceration (juice contact with skin, stems, and seeds) to extract color and enhance phenolics. Fermented in temperature-controlled stainless steel for a week. Winery does not reveal its oak program, but there was some barrel time for this effort. 13.5% ABV
Tempranillo is Spain's most widely planted grape. It also is famously food-friendly. It is most-associated with Rioja and Ribera del Duero and often is identified by different names—In Penedès, it is called ull de llebre, in Valdepeñas it is cencibel, also tinta del pais, tinto fino, tinta de Madrid, and others. In Portugal, it is tinta roriz and is both a red wine and important in port wine. Because of its tolerance to heat, it is becoming more important across the world in wine's response to global warming. It has an important role in Texas winemaking.
The Torres family has been making wine in the Catalunya region since 1954. Catalunya is situated in the very northeast of Spain, right at the border with the south of France. Climate is fully Mediterranean and continental. Some of the regions where grapes are harvested include Penedès, Terra Alta, Priorat, and Costers del Segre.
From the beginning Torres emphasized value-for-money, and this definitely qualifies. They assert they are "ambassadors of the Spanish Way of Wine" and are sold in more than 130 countries. They also are "Official Partners of the Spanish National Football Team." That is a soccer team, of course. In that context, they proclaim they represent "The Soul of Spain" in an entertaining video on the website.
The winery has an admirable commitment to ecological responsibility. That includes organic wines, vegan-friendly, solar energy and biomass, and a more than a one-third reduction in direct and indirect CO2 emissions per bottle (according to audited 2020 data). The winery is a member of the International Wineries for Climate Action.
Familia Torres Sangre de Toro Tempranillo 2018 is a fruit-forward, tasty, easy-drinking value play using Spain's signature red grape. The name translates "blood of the bull" and reflects tempranillo's vivid red color. Familia Torres is a leading Spanish maker, a member of Primum Familiae Vini, an association of a dozen wine families who are among the most prestigious wine producers in Spain. Pair with beef; beef stew that includes tomatoes; tapas and appetizers; lamb (classic with tempranillo); pork; grilled sausage; veal; poultry; pasta with tomato-based sauces; pizza. Cheese—creamy cheeses; sheep milk cheeses—manchego, pecorino, idiazabal, roncal; cheddar. $10-14
The winery website does not offer any useable photos.