Deep ruby color; blackberry, plum, oak, tobacco, leather on the nose; cherry, blackberry, plum, raspberry, chocolate, oak spice on the palate.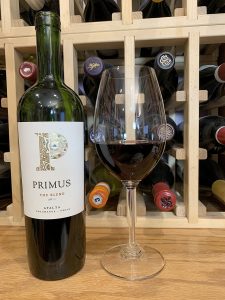 Dry; firm tannins with mild acidity (3.76 pH). Medium body. Ripe fruits. I found the previous vintage (2017) easily drinkable but somewhat disjointed. Primus upped the cabernet sauvignon this time around—55% versus 40%—and the structure is more coherent this iteration. Blend of 55% cabernet sauvignon, 20% carménère; 10% petit verdot; 10% syrah; 5% cabernet franc.
This is brand of Viñedos Veramonte in Casablanca, Chile. Fruit comes from younger vines Veramonte has in the Apalta wine region. Fermented in stainless steel. Skins remain after fermentation to add structure and soften the finish. Wine then finished in French oak, 18% new, for a year, except one-third aged in 1,300-plus gallon foudres. This, too, is a slightly different regimen than the previous effort. Primus changes its approach each year for its premier offering, depending upon what the vineyards provide. 13.5% ABV
In the U.S., Primus is a González-Byass brand, a major player in the wine world. Their website notes: "Primus is a leading brand in the Chilean premium segment and a preeminent example of Chilean quality capabilities. The name Primus is Latin and means 'the first' or 'the first among its peers', and for good reason. The winery was founded more than 20 years ago by Agustin Hunneus. It was truly a pioneering brand as the first blend of the signature red grapes of Chile: Cabernet and Carmenere. Today, The Blend is still the standard bearer for Primus, and has been joined by two single varietal wines: Primus Cabernet Sauvignon and Primus Carmenere."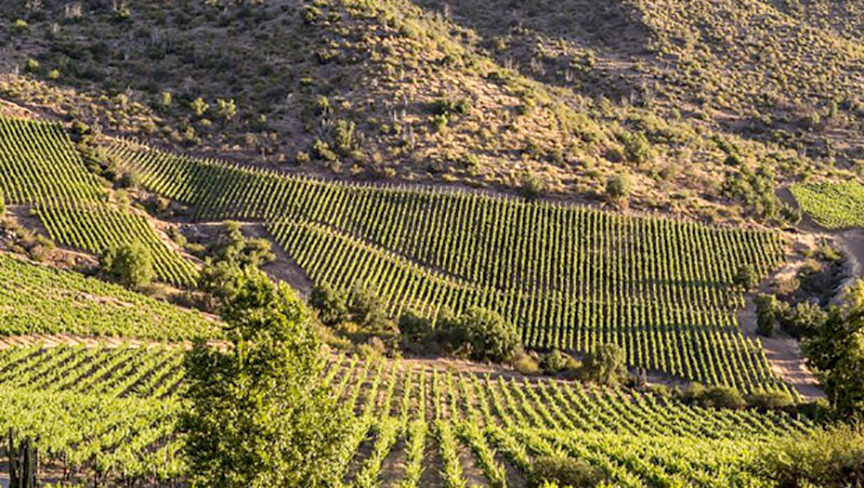 While Primus is its own brand, it is closely associated with Veramonte, another González-Byass brand in Colchague Valley. It appears Primus gets or co-grows its grapes from Veramonte vineyards. A good thing. Veramonte emphasizes organic principles. Website notes: "We follow organic practices in all our estates to ensure the best conditions for the development of the vine, thus achieving vineyards that are sustainable in time. Through cultivating healthy, living soils and maintaining a natural balance in our vineyards and Winemaking process, we obtain quality grapes that express the full potential of the terroir, leading to wines with character, authentic and expressive."
Beyond that, Veramonte, Primus, and González-Byass emphasize a holistic approach to their entire operations. Respect for the land, yes. Also, respect for the people who work the land. Chilean wine is among—maybe the leader—in a total approach to sustainable, responsible practices. In Veramonte vineyards, "Sheep and other animals help us cut grass in spring, air and minimize the compaction of our soils. In addition, they act as a natural fertilizer." Their vineyards have biological corridors to preserve biodiversity and encourage a self-regulated ecosystem. Veramonte produces all its own compost, utilizing material from the winery and vineyards. And Veramonte/Primus make special effort to responsibly treat their employees and the communities where they live.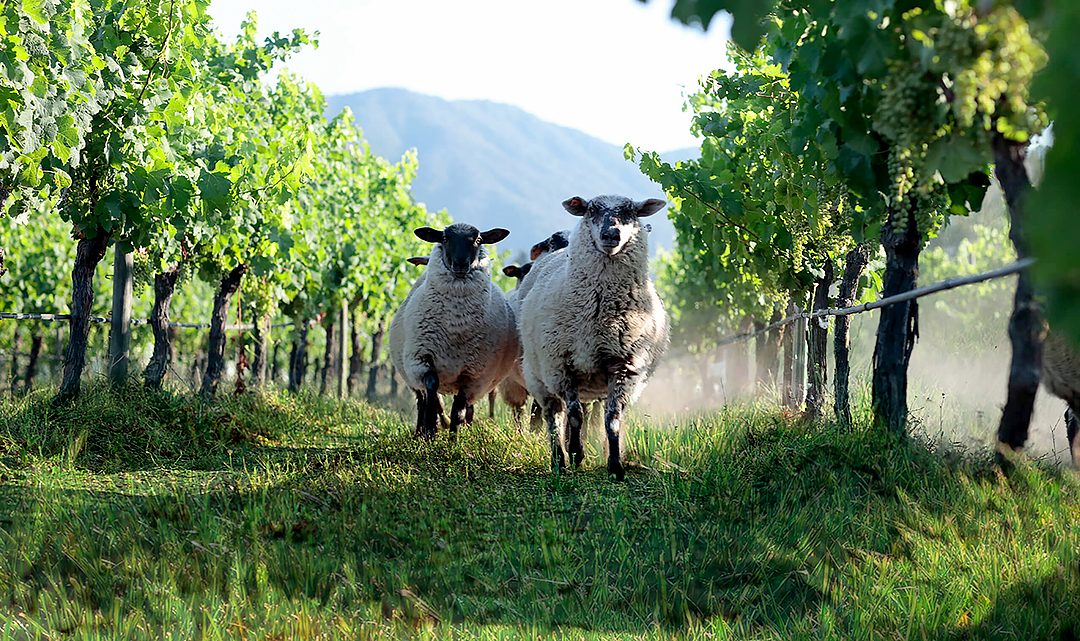 Primus The Blend, Apalta, Colchagua Valley 2018 is polished, fresh, fruity. Blend led by cab accompanied by carménère and a cadre of other reds. The winery's premier red with a grape formula that varies according to what Mother Nature delivers. Excellent Chilean value in a rich, assertive red wine. Pair with beef—grilled steaks, rib roast, barbecue, sautéed, braised meat; beef empanadas; curry stews; lamb stew; pork loin; pasta dishes with red sauces; veal; poultry. Cheese—hard, aged cheeses. $18-20