Deep garnet color; cherry, sweet balsamic, roasted tomato, leather, violets on the nose; black cherry, raspberry, cranberry, blood orange, bit of earthiness on the palate.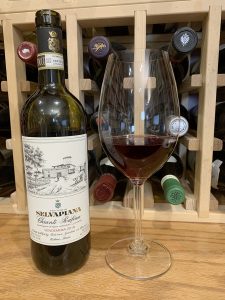 Dry; tame, fine-grained tannins and excellent balancing acidity. Medium body. Smooth and graceful in the mouth. Nicely polished, affordable version of Chianti Rufina–sangiovese. As a standard Chianti, this aged four-to-six months. Fattoria Selvapiana makes a reserve version of this wine; a "riserva" must age two years and costs some five times more than this effort. 13% ABV
Blend of 95% sangiovese with 5% canaiolo, colorino, and malvasia nera from vines 15-40 years old. Organic certified. Native, ambient yeasts. Aged in 660-790-gallon French oak casks, so there is only subtle oak notes. Production is robust 157,000 bottles and U.S. distribution is by Dalla Terra, so this should be easy to find. Total production by the winery of all its labels in 300,000 bottles.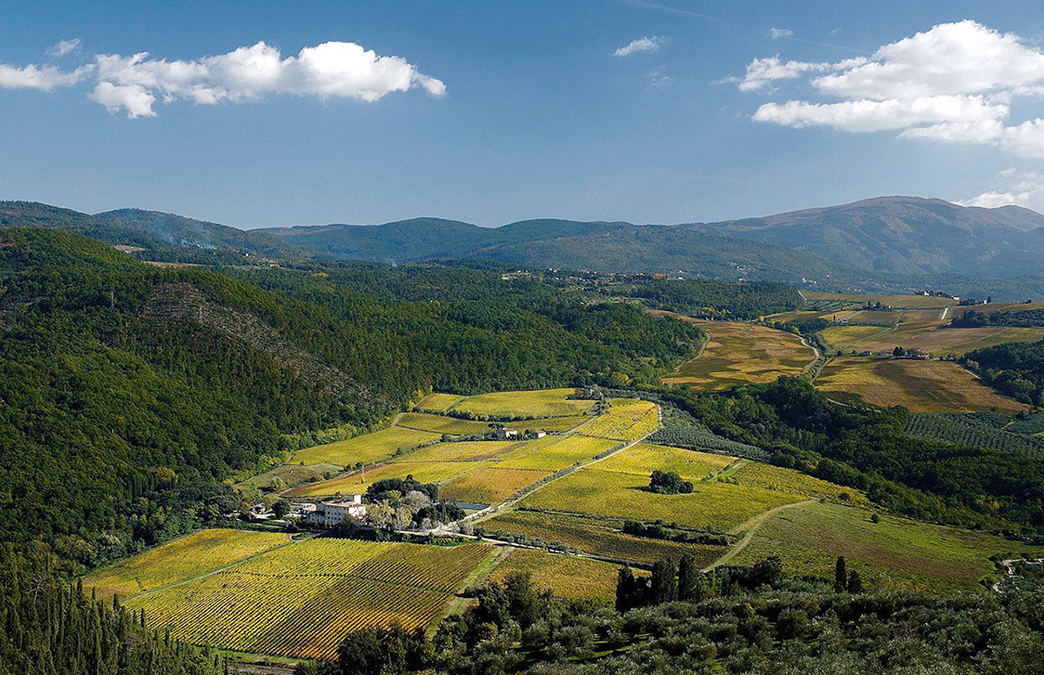 Selvapiana is the name of the estate in the Rufina subzone. The winery was founded in 1827. The website notes: "Selvapiana is among the best-known and most respected of the two dozen growers in Rùfina—the smallest subzone of Chianti—and as it happens is also one of only two wineries to produce wine from the tiny Pomino DOC. The Selvapiana winery, like all of Chianti Rùfina, lies close to the Sieve River, a tributary of the Arno upriver from Florence. The air is cooler and cleaner here than in the city, which is why these hills have long been a retreat for aristocrats escaping Florence's summer heat. During the Renaissance, one noble Florentine family constructed the Selvapiana residence by enlarging a medieval watchtower that was one of the outposts guarding Florence from invading enemies.
"For centuries, the house was the summer home of a series of wealthy city dwellers, including bishops of Florence. Its modern history began in 1827, when banker Michele Giuntini Selvapiana bought the property. Ownership passed down through his descendants to the current owner, Francesco Giuntini Antinori, representing the fifth generation of family ownership. With the assistance of consulting enologist Franco Bernabei beginning in 1978, Selvapiana was among the first Tuscan producers to make a Chianti Riserva from 100% Sangiovese (1978) and to produce a single-vineyard wine (Bucerchiale 1979)."
Fattoria Selvapiana Chianti Rufina Vendemmia DOCG 2019 delivers vivid sangiovese fruit in a supple, tasty package that includes good acidity. Easy, uncomplicated crowd pleaser. Pair with pasta dishes; beef; baked fish; veal; poultry; pair with Italian cheeses, especially parmesan, aged pecorino. $15-19
U.S. importer Della Terra website