Deep ruby color; black cherry, plum, leather, licorice, black currant on the nose; black cherry, black currant, plum, dried herbs on the palate.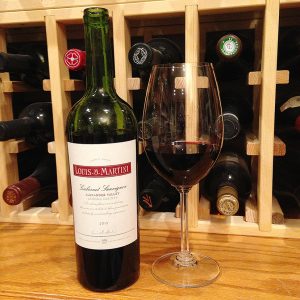 Dry; dusty, grippy tannin that have softened in four years in bottle and really evolve with decanting; bold and powerful black fruits with definite but well managed oak. Balancing acidity. Cedar and leather manifest on the mid-palate and beyond accompanied by the black cherry with touch of sourness the reinforces the robust, fruit-forward power of this pour on the pop-and-pour tasting. Round, full in the mouth, very expressive of the Alexander Valley, especially the sun-soaked, gravely, western-facing slopes where most of these grapes were grown.
As with most big, bold reds with tannins, this significantly benefits from decanting. The black fruits become rounder and the fruit less aggressive and much more delicious and approachable. The touch of sourness on the finish basically goes away after decant, and the wine becomes almost sweet and definitely delicious. The tannins, already mellowing out after four years in bottle, become a very pleasing background note, not part of the initial attack. All in all, after decanting this becomes a splendidly integrated cab that punches above its weight.
Louis M. Martini is a big-production winery that consistently delivers and often over-delivers. The winery was founded in 1933 by Louis M. Martini. The Martini family's grape legacy goes back to 1911, when Louis M. made wine in a rented facility. During Prohibition, Louis M. produced sacramental and medicinal wine, as well as grape concentrate for legal in-home winemaking. The L.M. Martini Grape Products Company came to Napa in 1933 as one of the original five Napa post-Prohibition wineries. Martini added acreage in Sonoma's Mayacama Mountains in 1938. In more recent times, it was led by third-generation vintner Mike Martini.
The Martini family owned and innovated until 2002, when the Gallo family purchased the winery and vineyards, but Gallo wisely kept Martini personnel, including Mike Martini, in the mix. The result is a range of superb wines rooted in two iconic Italian-American family traditions. This is one of the last vintages Mike Martini produced, handing over full responsibilities to Michael Eddy in 2015, but Eddy was involved in this during the transition in 2013.
Louis M. Martini Cabernet Sauvignon Alexander Valley Sonoma County 2013 is very robust, bold fruity, superior Alexander cab that significantly benefits from decanting. Pair with bold meats: braised beef short ribs, meatballs, barbecue lamb ribs, beef tenderloin, grilled steaks, brisket, other rich red meats, but you also can do zucchini gratin with tomato confit is you are in vegetarian mood. $29-34