Vivid ruby color; watermelon, strawberry, lilt of lavender on the nose; fruit punch, raspberry, cherry, watermelon, strawberry, citrus on somewhat restrained palate.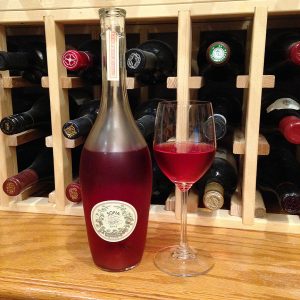 Dry, light, crisp, fruity, uncomplicated rosé; medium body. Blend of 35% syrah, 35% pinot noir, 30% grenache; cold soaked for two days on the skins to achieve the intense color. Nice acidity (3.5 pH). Although it is less than one-third the blend, grenache comes through, with the pinot noir as second fiddle, and I struggle to taste the expected syrah influence.
Whatever, this is distinctive rosé is deliberately aimed at feminine market: stylized bottle, striking color, fruity, made for drinkers who do not want soda pop, but also do not want assertive red fruit flavors. According to the winery website, grapes are harvested early, at lower brix (sugar) to "ensure the wine remains light in character to pair well with food."
The wine is named after Francis Ford Coppola's daughter, Sofia, an Academy Award winning screenwriter, director, producer, and actress. Her contribution to the wine making is undetermined, save for the name. She lives in Paris with husband, musician Thomas Mars, and is raising their two daughters. Francis Ford Coppola, of course, is Hollywood royalty, co-writer of Paton, director of the Godfather series, Apocalypse Now, Peggy Sue Got Married, Bram Stoker's Dracula and many others. Today, at age 78, he may be better known for his wines and resorts, but his directing-writing career continues.
Francis Coppola Sofia Rosé Monterey County 2015 is dry, somewhat restrained alcohol (12.9%), juicy flavors of strawberry and cherry. Fun, simple sipper with gorgeous color. $15-19
Francis Ford Coppola Winery website