Medium gold color; apple, peach, pear, brown sugar, vanilla, oak on the nose; ripe fruit, peach, pear, butter, vanilla, spice on the palate.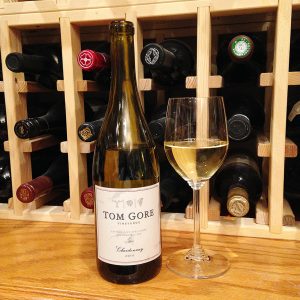 Medium body, very rich and round; dry (4.0 g/L); good acidity (3.35 pH) nicely balances the fruity sweetness that gives wine hint of honey; 98% chardonnay, 2% sauvignon blanc. Plenty of time in oak, but part of fermentation is in stainless steel, helping strike a welcomed balance between austerity and fruit bomb.
Very smooth, creamy easy drinker. Classic California chard with the super ripe fruits, malolactic butter, vanilla and spice from oak, crème brûlée, chip of coconut—but this is done well, not the painted lady cartoon that some chards become when made from inferior grapes. If you like rich chard with plenty of oak influence, but not sluttishly overdone oak, this is made for you. The admirable acidity kicks in nicely at the end, contributing to hints of citrus during an impressively long finish.
Tom Gore Vineyards is owned by Constellation Brands, the world's largest wine producer. With its Tom Gore brand, Constellation gives Gore his chance to build a niche as a farmer-based wine selling at a proper price. It is a clever marketing ploy that presents the wine as created by a golly-gee California farmer—which Tom Gore is, second generation in Sonoma—who works with one of the world's pinnacle alcohol brands.
Gore leads the farming effort, encouraged by his wife, Erin. Erin, too, has farming background, but her roots are Wisconsin dairy farm. Erin told an interviewer: "When I met Tommy and found out that he grows wine grapes, I thought, 'That's much more fun than milk.'" Erin, however is no farm hick; she holds a degree in chemical engineering from the University of Wisconsin-Madison and sells adhesives world-wide, including those used for wine labels. Rounding out the team, veteran Constellation Brands consultant Maureen Martin is the winemaker. She knows what she is doing, too.
Tom Gore Chardonnay 2014 is a big California, plenty of oak influence, loads of ripe fruit, chard lover's palate dream date. This is no pancake makeup simulacrum of chardonnay, but the way to make this style, and at an OMG price point. Well done, girls; nice job by you, too, Tom. $13