Medium copper color; strawberry, cherry, peach, bread yeast on the nose; strawberry, raspberry, orange zest, ruby red grapefruit on the palate.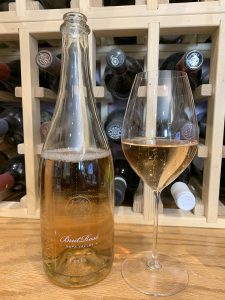 Brut; blend of 90% pinot noir, 10% chardonnay. Impressive depth thanks to three years aging on the lees. Very fine, persistent bubbles. Nicely reserved alcohol—12% ABV—which, with its pleasing color, makes for an excellent aperitif. Very fruit forward with nice, impressive cutting acidity (2.95 pH) while also presenting creamy mouthfeel. Nice accomplishment. Layered, lengthy finish. 
Todd Graff is the winemaker. On the website he does the obligatory—but still true—homage to grape sourcing and picking at the precise time. Just about every winery proclaims this fundamental truth, even when not every one truly delivers. Frank Family consistently and truly delivers.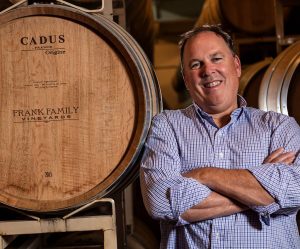 The Family vineyards are near the shores of San Pablo Bay, which delivers the wind, night cooling, and fog essential to the magic of Napa and Carneros—and to high quality vineyards around the world. As Graff knows. After his UC-Davis education he worked at riesling vineyards in Germany's Mosel, in sandy soils of St.-Émilion in France, in Australia's Hunter Valley, and at Stag's Leap in Napa. He says the favorite part of his day is walking the vineyards in the morning with his dog, Bristol. I would pick drinking the wine Graff produces over walking a dog, but that would be me.
Winery owners Rich and Leslie Frank are stories unto themselves. Rich is a major Hollywood player—former chairman of Walt Disney Television and Communications, president of Walt Disney Studios, head of syndication division of Buena Vista, led development of the Disney Channel, president of Paramount Television Group, a founder of the USA Network, president of the Academy of Television Arts and Sciences. Whew. Google "Frank H. Rich" if you want to know more.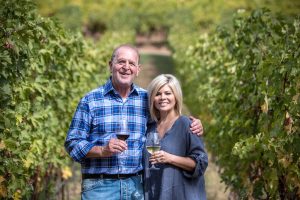 Leslie Frank is an Emmy-award-winning television news anchor and reporter, including nine years with KABC, the number one station in Los Angeles. Now, with that glitz, glamor, and power behind them, they focus on making major wine and spending time with their German Shepherd Riley. At least, that is what their website claims. Dogs are the big focus amid all this? Focus groups must say this image plays well for sales. In any event, they are the epitome of a power couple.
The old joke in the wine industry is to make a small fortune in the wine industry you must start with a large fortune. I'm not sure that is going on here, or that it matters, but following stratospheric success in the entertainment and television business, these guys and dolls now make some excellent wine. Rock on.
Frank Family Vineyards Brut Rosé Carneros 2015 is impressively sophisticated while delivering tasty fruitiness. In the wrong hands, those qualities can be mutually exclusive. Not here. Bright, fresh, with some boldness. Lovely color makes for excellent aperitif choice. Superb acidity sets it up as food-friendly. Pair with appetizers and snacks; charcuterie board; shellfish; lean fish. As with most sparkling wine, it could work with almost any food. $53-60
Frank Family Vineyards website
Frank Family Vineyards YouTube video; worth watching