Lovely gold color with hints of green; green apple, pear on the vibrant nose; apple, pineapple, pear, citrus, reserved oak, vanilla on the palate.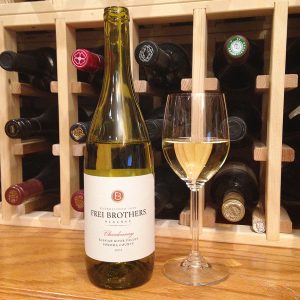 Medium-full body, nice acidity (3.43 pH), plush in the mouth. Some lemon and grapefruit notes emerge in mid-palate; fairly fast and flat finish. Full malolactic fermentation; 20% of the juice aged in new American and French oak, remainder in stainless steel with wood staves. Standard, simple, and well-made mass-produced Russian River chardonnay.
Frei Brothers traces its history to 1890 in Sonoma County's Dry Creek Valley when Swiss immigrant Andrew Frei established the property and winery, later turning it over to his sons, Walter and Louis. The brothers adopted the name "Frei Brothers" and successfully operated the winery for more than 70 years. After the repeal of Prohibition, the Frei Vineyard caught the eye of Julio Gallo, winemaker for the rapidly expanding E. & J. Gallo Winery. When Andrew Frei's descendants retired in the late 1970s, the Gallo family purchased Frei Ranch and further developed the vineyard and the brand.
Today, winegrower Scott Johnsen emphasizes sustainable agriculture. "Being 'green' is not about a popularity contest; it is about doing the right thing for future generations," he says. For every acre of vineyards they own, Frei sets aside a second acre for conservation. Frei/Gallo calls it "quality with a conscience."
Frei Brothers Russian River Valley Reserve Chardonnay 2014 is very serviceable chard widely available—more than 1.2 million bottles produced. Very consistent vintage-to-vintage; no big wow, but you know exactly what you are getting—a well done chard. $17-20
Other photos: Frei brothers vineyard, winemaker Scott Johnsen