Dark brick-red color with translucence; red fruit, spice, violets, tobacco on the nose; tart cherry, red currant, raspberry, leather, earthy flavors on the palate.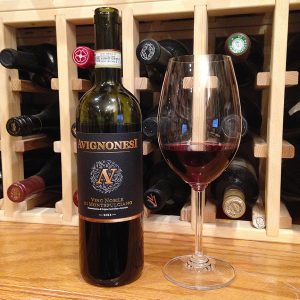 Medium body, minerality, chalky tannins and good acidity, somewhat rustic, bit of balsamic bite on the finish. Happily 100% sangiovese—some previous efforts threw a smattering of a few other grapes into the mix. This vintage spent 12 months in French barriques and six months in large Slovonian oak casks, but the oak is muted amid the power and acidity of the sangiovese. Classic Montepulciano offering. Decanting smooths things out, as usual, and brings out more of the red fruit and roasted tomato flavors expected in Tuscan sangiovese.
The Vino Nobile di Montepulciano name entails two elements: the ancient Tuscan town of Montepulciano atop a volcanic-rock hill surrounded by vineyards (including Avignonesi's 495 acres on the northeast slope) and a legacy of being served at tables of Italian nobles. Italian law requires a minimum of one year of barrel aging and three years of bottle aging for this DOCG, so 2013 is the newest vintage available.
Avignonesi embraces biodynamic farming, including generous use of manure, nettle tea, copper, and sulfur—all natural ingredients. Avignonesi's owner, Virginie Saverys, has interesting life story: born in Ghent, Belgium, educated at the University of Paris, she practiced law until succumbing to her passion for wine, becoming a part owner in 2007 and full owner in 2009. Her focus has been biodynamics and pushing her label to new levels of excellence. "I eat only organic products myself, and I believe a farmer's first duty is to his land," she writes on the winery website. Her vision produces terrific wine.
Avignonesi Vino Nobile di Montepulciano DOCG 2013 is a dependable Montepuliciano that showcases Chianti—Montepulciano is a Chianti with specialized name drawn from its location and its DOCG regulations. This is a wonderful, rich, distinctive red wine. Sangiovese's rusticity and sour-tart notes turn off some wine drinkers, but those properties are what thrill other drinkers and bring them back for more. Count me among the latter and pour another glass of this classic effort. $28-30
Interesting interview with Virginie Saverys
Other photos: Avignonesi vineyard; Avignonesi winery; Virginie Saverys