Medium straw color; peach, yellow fruit, citrus, honey on the nose; peach, pear, lemon, citrus, honey, saline and minerality on the palate.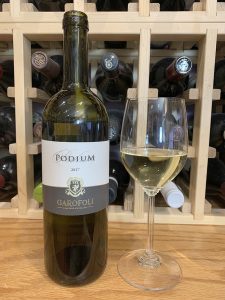 Dry—residual sugar is less than one gram per liter, approaching bone dry. Light-medium body; rich, creamy, silky in the mouth. Classic oily texture. Good acidity. Grapes fermented on the lees in concrete and stainless steel tanks, thus no oak. No malolactic fermentation; 14% ABV.
I reviewed the previous vintage of this, and my notes from then track closely to my experience now. I note more saline and minerality on the mid-palate and finish. I also don't sense as much phenolic (non-sugar) sweetness. But that is from year-old notes. In any event, my overall report was positive then and it is positive this vintage.
The wine's name comes from its vineyard atop a long, flat-topped hill that suggests a speaker's stand or podium. Made with 100% verdicchio. The grapes are grown in the famed Verdicchio dei Castelli di Jesi DOC in Italy's Marche region. The Garofoli vineyards cover some 130 acres in the zones of Montecarotto (Jesi area) and Paterno and Piancarda (Mt. Conero area) and Castelfidardo.
Verdicchio, often cited as Italy's premier white grape, is a principal white grape of central Italy and the Marche region. Once primarily made with extensive skin contact and even sweetened with a second fermentation induced by the must of dried grapes that gave it some bubbles. Now it is made in this lighter, brisker style—this effort—and has significantly improved its reputation.
This is Gioacchino Garofoli's flagship bottling. It is a classic, delicious verdicchio. Garofoli, considered a benchmark producer of verdicchio, is one of the oldest family-owned wineries in Italy. The winery's origins date to 1871 when Antonio Garofoli began producing wines for pilgrims who came to the famous church of Basilica della Santa Casa in Loreto.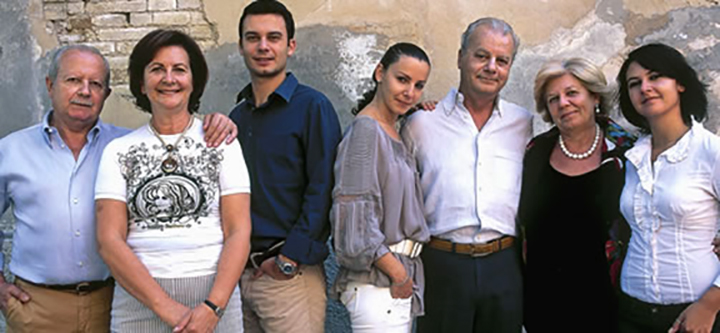 In 1901, Antonio's son, Gioacchino, founded the Garofoli winery. His sons, Franco and Dante, succeeded Gioacchino after World War II. Brothers Gianfranco and Carlo followed. Gianluca Garofoli, the fifth generation and Gianfranco's son, alongside his sister Caterina, and Carlo's daughter Beatrice lead the operation today.
The Garofolis are among those most credited with improving the style of verdicchio wine and elevating it into world-class level. Verdicchio is famous for its versatility and ability to age. In addition to adopting a modern emphasis on freshness and clear focus on the grape, the Garofolis were among the first producers to limit yields in order to give verdicchio greater body, structure, and complexity. This effort reflects their vision and significant achievement.
Gioacchino Garofoli Podium Verdicchio dei Castelli di Jesi Classico Superiore 2017 is a marvelously delicious effort. Outstanding fruit. Fruity with balancing acidity, minerality, and splash of saline on the lengthy finish. Fresh. A yardstick to measure pure verdicchio bottlings. This is perfect as an aperitif. It will please lovers of quality wine and also will be enjoyed by coy drinkers who prefer "sweet" wines. Will pair with marcona almonds (classic pairing); shellfish; fish pasta; cold gazpacho salad; prosciutto; quiche; savory tarts and soufflés. $26