Medium-dark ruby color; blackberry, blueberry, violets on the nose; dark cherry, blackberry, blueberry, fig, vanilla, dark roast coffee, leather on the palate.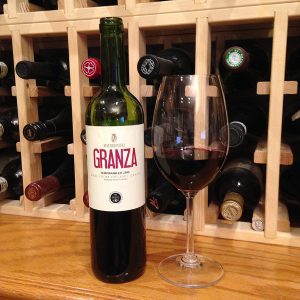 Assertive in the mouth, with sweet but grippy tannins, full body, medium acidity, subdued oak—just six months in barrel instead of the more common 12-18 months. Smooth, some bite on the finish, but largely an easy drinker. Certified organic—a big emphasis at Grupo Matarromera.
Matarromera Winery was founded in 1988 in Valbuena de Duero (Valladolid) and released its first wine in 1994, an amazing vintage which saw the winery win the prestigious Best Wine in the World Award, alongside the Grand Gold Medal in the International Wine Competition. Since then, the winery has received various prizes and awards, both on its native Spanish soil and further afield, including winning the 2015 Spanish Food Prize in the category for Best Agri-Food Industry and selection as one of the top 100 wineries in the world by Wine & Spirits Magazine in 2014.
The origins of what is now the Matarromera Group date back centuries. Carlos Moro, the Grupo Matarromera founder, came from a family whose ancestors cultivated wine with care, dedication and passion for generation, an attitude that Carlos Moro cultivated from an early age, too. In 1988, after successful ventures in other lines of business, but with his mind always focused on vineyards and wine-making, the bodega owner returned to his native turf and created the Bodega Matarromera, which went on to enjoy unprecedented success in the village of Valbuena de Duero, 125 miles north of Madrid.
Grupo Matarromera Granza Tempranillo 2015 lets you know you are drinking red wine, then entertains your palate with layers of dark fruit flavors. Good wine from an important player in the Spanish wine world. $14-15
U.S. importer of Granza website
Photos: Matarromera winery; Matarromera winery-vineyard; Matarromera barrel aging room; Matarromera vineyards.