Deep garnet color; espresso, earth cherry on the nose; cherry, plum, eucalyptus, cranberry on the palate.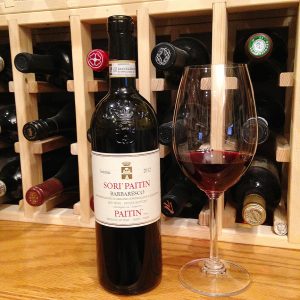 Significant dusty tannin, as you should anticipate from nebbiolo grape, but well done with balancing acidity and nice dark fruit presenting through moderately long finish. The wine spends 18 months in Slavonian casks, then two months in stainless steel before bottling. It is unfiltered and unfined.
This is a little rough/rustic—it is no silky, satiny soft in the mouth play. First sip, you know you are drinking in the serious red wine league, although its power and assertiveness are not over-done. Think of this is introduction to even more serious Barolos, or just a terrific wine to go with kobe beef or other red steaks.
Azienda Agricola Paitin is a family-owned wine estate in Neive, within the Barbaresco zone of Piedmont. The estate dates back to 1796 when Benedetto Elia bought a farm with associated wine cellar. His son added more vineyards and a 15th century underground cellar. The flagship Barbaresco del Sorì Paitin has been produced since 1893 and the first exports were made in 1898, so this wine has a history of more than a century.
After a protracted break caused by war and associated economic hardship, full production recommenced in 1965. Current owner Secondo Pasquero-Elia, a descendant of the founder, built a new cellar and began replanting the vineyards and acquiring new plots.
There are now 17 hectares (42 acres) of estate vineyards, planted largely to Nebbiolo. Paitin's red wines are fermented in stainless steel tanks and aged in Slavonian oak barrels and casks of varying sizes.
The Sorì Paitin vineyard supplies two cuvées: the standard Barbaresco (this bottle) and the Vecchie Vigne Riserva. Paitin also makes a top Barbaresco wine called Serra from vines on the prestigious Serraboella cru. The estate also makes a Langhe Nebbiolo and a Nebbiolo d'Alba, as well as a pair of Barbera d'Alba wines, a Dolcetto d'Alba, and a 50:50 blend of Nebbiolo and Barbera.
Paitin Pasquero Elia Sori' Barbaresco 2012 is an approachable, well-crafted expression of nebbiolo, a nice starting point in your exploration of really serious Italian red wines. $41-43
Photos: Azienda Agricola Paitin; Azienda Agricola Paitin vineyard; Secondo Pasquero-Elia