Deep ruby-purple color; spice, dark fruits on the nose; black currant, black cherry, tar, leather on the palate.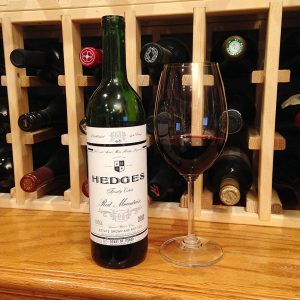 Dry; medium body; tart, taut fruit with significant tannins, given the tannins, adequate balancing acidity (3.7 pH); throw in smoke and gamey meat elements to the flavor parade. This is very serious wine from Washington State. Forget about juicy fruit bombs and ripe fruit sweetness, this drinks like a young left bank Bordeaux even after five years in bottle. It sports a classic formula: 60% cabernet sauvignon, 26 merlot, 8%syrah, 4% cab franc, 2% malbec.
The wine is not delicious—the tannin and the tart fruit deflect that adjective—but it is very serious wine, very precise and angular, a wine for experienced wine drinkers. Decanting is effectively mandatory, and more time in bottle is strongly recommended.
The Hedges Family wine story began in 1986 when Washington native Tom Hedges found employment marketing American wines in Taiwan. Next came Hedges Cellars, a "virtual winery" that found customers in Sweden. Tom Hedges and his wife, Anne-Marie marketed cab-merlot blends to foreign buyers for two years before moving into the domestic market with North American distribution.
With no winery, the couple next took a chance on an obscure hill called Red Mountain near Benton City, Washington, where they continued their concentration on cab and merlot. With Anne-Marie's roots and childhood in the Champagne region of France, it was no surprise they built a French-style château on the slopes of Red Mountain surrounded by their vines. Tom's brother Pete Hedges joined the winery as general manager in 2002. The Hedges' son Christophe and his wife, Maggie, came on-board shortly thereafter, and the brand became Hedges Family Estate.
Christophe Hedges a few years ago created a minor dust up in the wine review world by disdaining wine scores, specifically Wine Spectator, but others, too. Hedges would not provide taste samples because the winery proclaimed itself pointedly against point scores. Wine Spectator bought bottles anyway and scored the vintages, much to Hedges vexed agitation.
The play may have been, as several suggest, a clever Hedges ploy for publicity, or it may have been generated by genuine pique over points. In any event, I'm safe here as I have never scored wines in nine years of the wine column and have written about why I do not.
Link to my column about wine scores
Strange thing: Hedges wines usually do nicely among point givers.
Hedges Family Estate Red Mountain 2012 is not for novice wine drinkers; the tartness and tannins will not pleasure unsophisticated palates. Pair it with a monster marbled steak, however, and the dawn will come. Decant it for a day or so, or lay it down for five or ten years, and this Washington state chrysalis will yield the butterfly. $29-32
Photos: Hedges Family Estate winery; Hedges Family Estate vineyards; Hedges Family Estates tasting room.