Medium ruby-purple color; raspberry, blackberry, strawberry jam on the nose; black cherry, plum, spice and black currant tang on the palate.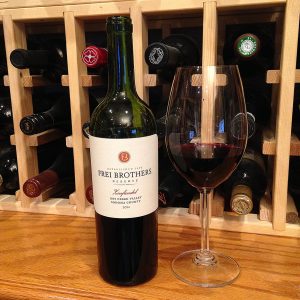 Rich, ripe in the mouth; dry; oak, caramel, mocha notes; easy-going tannin plays with laid-back acidity (3.74 pH)—Frei is trying not to make a tart or puckering statement here. Primarily zinfandel, but 6% petite sirah blended to enhance body, darker color, and enhance fruity-sweet lushness.
Easy going, easy sipper that will pleasure a range of palates. Relatively simple with plenty of ripe fruit and oak sweetness for the throngs who like juicy and jammy; tannins and acidity are significantly restrained. More than 80% of the wine aged in combination of predominantly American oak new and one-year-old, also some French oak and neutral French and American barrels. The deft oak play delivers sensation of sweetness rather than splinters-in-the-tongue oakiness, which is deeply appreciated.
Frei Brothers traces its history to 1890 in Sonoma County's Dry Creek Valley when Swiss immigrant Andrew Frei established the property and winery, later turning it over to his sons, Walter and Louis. The brothers adopted the name "Frei Brothers" and successfully operated the winery for more than 70 years. After the repeal of Prohibition, the Frei Vineyard caught the eye of Julio Gallo, winemaker for the rapidly expanding E. & J. Gallo Winery. When Andrew Frei's descendants retired in the late 1970s, the Gallo family purchased Frei Ranch and further developed the vineyard and the brand.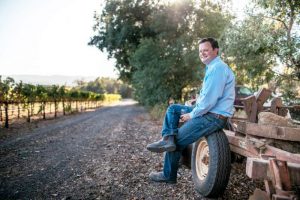 Today, winegrower Scott Johnsen emphasizes sustainable agriculture. "Being 'green' is not about a popularity contest; it is about doing the right thing for future generations," he says. For every acre of vineyards they own, Frei sets aside a second acre for conservation. Frei/Gallo calls it "quality with a conscience." Good marketing, also good for Mother Earth. Celebrate a win-win with a toast to Frei with this wine in the glass.
Chris Munsell, director of winemaking for the mothership, E. & J. Gallo Winery, notes "about 60 percent of the zinfandel is estate grown in our Dry Creek Valley vineyards, including our Frei Ranch Vineyard, which was established about 125 years ago. Frei gives us that black pepper and spicy character we like to have." All the zin in this effort did not come from Frei Ranch, some grapes came from "neighbors with whom we have longstanding relationships." Still, likely all in the Russian River of Sonoma, a sweet spot for quality zin.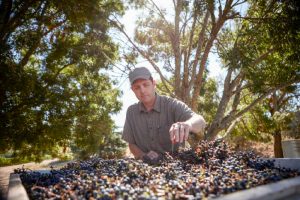 Frei Brothers Sonoma Reserve Dry Creek Valley Zinfandel 2014 is a general audience crowd pleaser—juicy, jammy, easily enjoyed, easily priced, reasonably high alcohol at 14.8%. Gallo knows how to make quality commodity wine, as this bottle easily demonstrates. $16-20