Deep ruby-purple color; black cherry, blackberry, blackcurrant, sage, mint, earth on the nose; dark fruits, smoked meat, licorice, dark chocolate, tiramisu on the palate.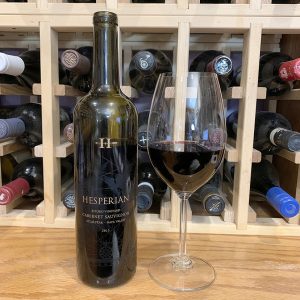 Dry; medium-full body; fine, significant tannins. Balancing acidity. Oak from 20 months in 80% new French oak. Napa power rather than finesse or elegance; 100% cabernet sauvignon. The wine is unfiltered. Time in glass smoothed this, so I regret not decanting after the pop-and-pour, but also must note that the power push had its own attractions. Nicely long finish; 14.4% ABV.
This is single-vineyard effort, sustainably produced. The 14.2-acre Kitoko Vineyard is located on the steep and rocky slopes of Atlas Peak; 1,350-1,450 elevation planted in 2000 and 2003. Owner and maker Philippe Langner reserves the majority of the grapes for this, his flagship effort, which first appeared in 2012. No question vines have to struggle to succeed in the challenging vineyard and that struggle reflects in its power and tannins. Quality, signature Napa cab.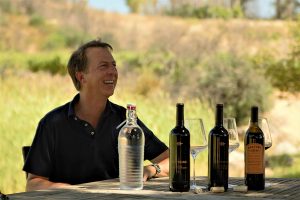 Langner was born in El Salvador to a German father and French mother, then grew up in Zaire (now called the Democratic Republic of the Congo). "Kitoko" means "beautiful" in the Congolese-Lingala language spoken there. He earned dual masters degrees in agronomy and agricultural economics at UC Davis.
"Hesperian" comes from Greek mythology. Hesperides were nymphs who tended the queen-god Hera's westernmost garden that produced golden apples, including the apple which Eris, the goddess of discord, presented as a wedding gift. That apple became the origin of the 10-year Trojan War. Today, "Hesperian" means anyone living in the West. It also references Venus, the western evening star.
Langner has another take on Hesperian. He told the Napa Valley Register in December 2019: "Hesperian is not a place, it's an idea. It's about crafting something beautiful, complex and individual. Over time my ideas about winemaking have changed. Whereas I once looked to power and intensity, I now look for sensitivity, precision and delicacy as a way to best express our vineyards' particular personalities."
This quote is from five years ago, when power and intensity still were Langner's goals. This comes from his powerfully intense cab phase. Some of his change in approach today may be influenced by the loss of his home in the 2017 Napa fires. He told the Valley Register: "I lost nearly everything…. I even lost my winemaking notes that I had kept on every wine I'd ever tasted—poof, gone."
Hesperian Cabernet Sauvignon Kitoko Vineyard, Atlas Peak, Napa Valley 2015 is a serious, powerful, intense Atlas Peak cab. Vivid black fruits. Significant but flavorful tannin. Same with the oak influence. Those elements are vividly present, but tasty and—in their own way—elegant. That is what powerful Napa cabs can do. Very neat trick. Pair with very rich meats; grilled and roast beef; bricket; cabrito; lamb; rack of lamb; wild game—almost any kind; filet mignon with rich balsamic glaze; beef stew; braised beef short ribs; simple meatballs; roasted duck breast with pecan purée. $69-80