Deep ruby with garnet edge color; dark cherry on the nose; black cherry, plum, blackberry, tart cherry on the palate.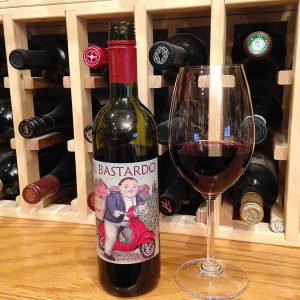 Rustic, fruit-forward style with drying tannins; good acidity; very dry; medium body; roasted tomato on mid-palate is interesting; rusticity asserts itself on the finish, which is wee bit hot in spite of the 13% alcohol claim. 100% sangiovese.
Sometimes you just want a cheap, tasty, Italian red that doesn't remotely pretend to be silky and refined, something to pair with pizza or pasta and tomato sauce. This is that bottle. At the price, get several for the price of a quality Tuscan Chianti or other sangiovese or Super Tuscan. Twist the screw cap and let the good times roll while watching an absurd horror movie on pay-for-view.
The winery describes Young Rubio depicted on the label as fruity, a tad fleshy, and full of fun. "Rubio enjoys a steady diet of pizza, his mom's divine pasta dishes and an occasional burger (just don't tell mom). The identity of Rubio's father is a mystery, but let it be known that he's a very happy bastard. His stamping ground (and primary source of grapes for Il Bastardo Sangiovese), is the vineyards of his native Rufina, but now and then Rubio ventures out on his Vespa to check out a handful of excellent vineyards nearby."
The label is fun, so is the maker's own description. This wine does not take itself seriously, which is its essential charm.
The Il Bastardo winery is located in the Rufina area of Tuscany, just 12 miles outside of Florence, in the Sieve River valley, considered the next-best region for sangiovese behind the Classico. As noted, most of the grapes come from this area, although these are the value-bottle grapes, not the aristocracy fruits. Each has its place.
Il Bastardi Rosso di Toscana Sangiovese 2015 is a fun pizza and pasta night wine that drinks easy, especially after some air or decanting knocks the edges off its rusticity. Just twist, pour, and don't over-think this to enjoy it. $7-9
No website or photos of the winery or vineyards available.