Deep ruby color; cherry, vanilla, darker fruits, leather on the nose; plum, dark cherry, mulberry, spice, blackberry jam on the palate.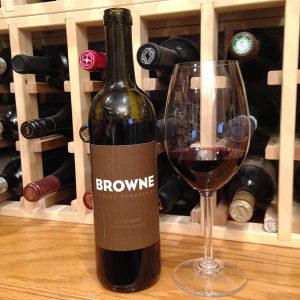 Fruit forward with adroit use of oak—35% new French, remainder in second and third barrels for 22 months. Blackcurrant tang gives it some bite in mid-palate; well-behaved tannins flirt with silky; balancing acidity (3.67 pH); round and full in the mouth. Bordeaux blend of 38% merlot, 32% cabernet sauvignon, 11% malbec, 11% petit verdot, 5% cabernet franc, 3% syrah (according to the website; label has slightly different percentages but same grapes).
Andrew Browne is the principal of Browne Family Vineyards. Andrew asserts he is a taste maker, not a winemaker. He focuses on talent and vineyards, an approach that serves him well as CEO of Precept Wine, a wine company and wine company marketer in the Northwest. Browne's two-decade successful career led to his establishing a namesake winery in addition to the 20-plus brands Precept represents.
Andrew says he takes his inspiration from his grandfather, William Bitner Browne, a lawyer who insisted on integrity and excellence. Washington State-based Browne Family Vineyards was 15 years in the making. Andrew assembled viticulturalists, winemakers, and cellar masters to do their magic on selected lots in the Columbia Valley AVA before launching this as a national, widely distributed brand.
The Brown Family Vineyards operation includes state-of-the-art production facilities that emphasize pristine, climate-controlled conditions from harvest to cooperage to bottle. The tasting room is located in the historic downtown district of Walla Walla, Washington.
John Freeman is the winemaker. Born in San Francisco and raised in Napa, Freeman's résumé includes seven years at Napa icon Franciscan Vineyards and five years as the cellar master at Miner Family Winery in Napa. Freeman moved to Walla Walla in 2002 to manage the winemaking process at Browne. A smiling optimist, he says he still can't believe he gets paid to do what he does.
Browne Family Vineyards Tribute Columbia Valley 2013 is nicely solid Columbia Valley-Washington State blend that delivers plenty of fruit. It regularly scores 90-plus points in Wine Spectator, and while I am not a devotee of wine scores, I would not argue with the rating. $29-35
Browne Family Vineyards website