Pale gold color; apple, tangerine, peach, quince on the aromatic nose; apple, pineapple, tangerine, grapefruit, quince, hint of honey on the palate.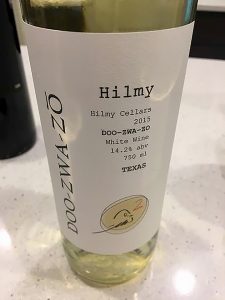 Dry; 50-50 blend of 71% viognier and 29% chenin blanc. Nicely smooth; no tannin. Oily notes expected from viognier and chenin blanc's clear sharpness and good acidity make for an intriguing marriage. The dynamic interaction between viognier's light sweetness and low acidity with chenin blanc's lack of sweetness and high acidity creates a delightful wine experience; 14.2% ABV.
Very easy drinker. Chenin blanc—a very versatile grape—brings richness and ripe fruitiness; viognier brings aromatics and pleasing mouthfeel. Both grapes have good body, especially for whites, and there is some creaminess, too. No oak. Doo-Zwa-Zō is Hilmy's phonetic interpretation of the French for "two birds." The blend is whatever strikes Hilmy's fancy each vintage—the 2016 effort, for instance, is a chenin blanc, marsanne, orange muscat blend.
All this is Texas High Plains AVA fruit, with the cellars in the Texas Hill Country AVA, a common situation with Texas wine. Some 85% of juice in pure Texas wines come from the High Plains, while the Hill Country delivers the tasting rooms and the market. The Texas Hill Country AVA around Fredericksburg and along Highway 290 wine road is the second-most visited AVA in the United States; only Napa attracts more people.
As with most Texas wines, do not expect to grab a bottle at your local supermarket. If you can't come to the winery–tasting room, you can obtain via the internet in thirty-something states and through the Hilmy wine club—"The Flock." This wine is worth the effort to find. It demonstrates why Texas wine now must be considered as a real player in the wine world.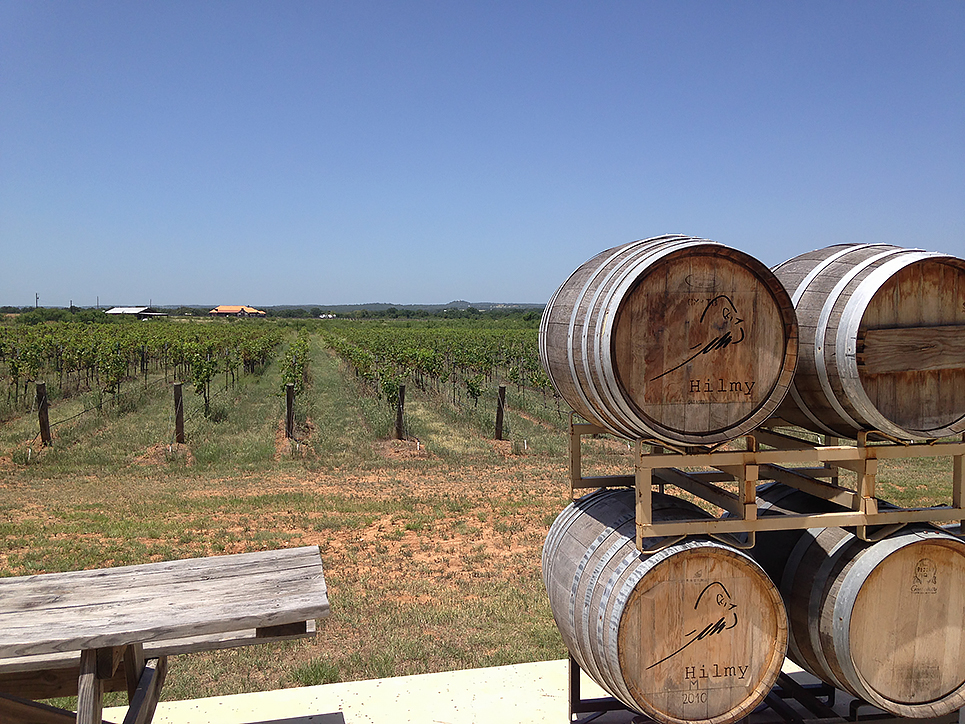 The Hilmy story begins with Eric Hilmy—a first generation American—in 2008 at a site near Fredericksburg. Eric started with 3,000 sangiovese vines—another varietal that works in Texas—and has expanded ever since. The key to the Texas wine industry has been finding what works in Texas terroir. Cabernet sauvignon does not. But vines that are heat and drought tolerant—viognier certainly qualifies—succeed.
In barely more than a decade, Texas has become the No. 5 wine grape producing state in the U.S., and with Texas money, pride, and vast acres of land, don't expect any cowboys to suggest turning the herd and slowing the stampede any time soon. The Hilmy website tells its story in words and three charming videos.
Hilmy Cellars Doo-Zwa-Zō White Wine 2015 is a delicious winner, delivering the lovable qualities of both viognier and chenin blanc. Very smooth easy drinker. Pair with roasted chicken, chicken curry, savory orange chicken; pork chops; roast turkey; quail; pan-seared tilapia; halibut; lobster; crab; shrimp; poached salmon; spicy Asian cuisine. $24
Hilmy website with entertaining video about his Beatles inspired winemaking philosophy and more, visit and watch