Medium-deep amber; strawberry, blackberry, toffee, cinnamon on the nose; honey, strawberry jam, blackcurrant, plum on the palate.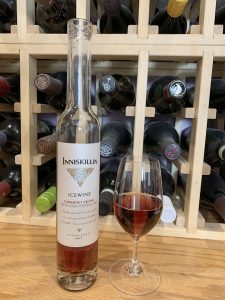 Very sweet—244 g/L residual sugar—but excellent acidity (3.27 pH) and balance make this extraordinarily delicious rather than cloying. Mouth-coating texture. This is cabernet franc as you have never experienced it before. Simply beautiful icewine, very distinctive, lively. 2017 was superb year for icewine, and this is shining example. The flavor depth is amazing, it just keeps coming in waves. 9.5% ABV
Inniskillin is an iconic Canadian winery renowned for the icewine. It was Canada's original estate winery. Donald Ziraldo planted his first grapes—riesling, chardonnay, and gamay—in 1974. The first harvest was in 1977. From the beginning, Ziraldo committed to producing premium wines from premium grapes grown in the Niagara Peninsula. In 1978, Albrecht Seeger and his family purchased the estate and continue to run it today.
The original winery was Ziraldo Nurseries, a farm once owned by Colonel Cooper in the 1800s. The name comes for Cooper's Irish Regiment, the Inniskilling Fusiliers. After the Seegers purchased the winery, they moved to the Brae Burn Estate. Brae Burn is Gaelic for "hill stream" and references the Niagara Escarpment and the Niagara River.

In 1984, Inniskillin winemaker Karl Kaiser harvested the first icewine from vidal grapes frozen naturally on the vine at the Brae Burn Vineyard. There had been an attempt at icewine the year before, but birds ate all the grapes not netted for protection. In 1991, Inniskillin received the most prestigious award in the wine world at Vin Expo, France: the Grand Prix d'Honneur for Kaiser's 1989 Vidal icewine. In 2002, Wine Enthusiast Magazine recognized Inniskillin as the New World Winery of the Year.
In 2006, co-founders Donald Ziraldo and Karl Kaiser left Inniskillin. Kaiser retired. Ziraldo became chair of Vineland Research and Innovation Center. In 2007, Bruce Nicholson became Inniskillin's winemaker. He has gone on to maintaining the Inniskillin tradition of winning numerous international wine awards.
The VQA on the label stands for Vintners Quality Alliance, an independent body that monitors British Columbia's appellation of origin system. VQA standards include: Wine must be made from 100% fresh Ontario grown grapes—no concentrates are permitted. Grapes used must meet a quality standard for each variety (measured by natural sugar content in the ripe grapes). No water can be added in the winemaking process. Labels must be truthful and accurately represent the wine in the bottle. All wines except for table wines, sparkling wines and fortified wines must be vintage dated and meet vintage requirements. All finished wines are evaluated by an expert taste panel and a laboratory analysis and must meet quality standards before release.
Inniskillin Cabernet Franc Icewine, VQA Niagra Peninsula 2017 is outstanding effort from a world-class leader in icewine. Icewines are created when the grapes remain on the vine and freeze, fiercely concentrating sugars and flavors. The freezing also significantly reduces yield, so icewines are expensive, especially from an ultra-superior maker like Inniskillin. As you could expect from Canadian climate, the country is a world leader in icewine.
You don't need to pair Inniskillin Cabernet Franc Icewine with anything. It is delicious, fabulous dessert all by itself. And, although expensive, a little goes a long way. $85-100 (375 ml)