Deep gold color; subtle nose with hint of Granny Smith apple and maybe pineapple, white flowers; pear, white peach and other stone fruit, light lemon, honeydew melon on the palate.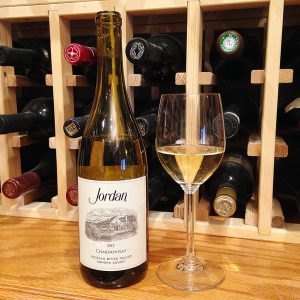 Dry; medium body, good acidity and minerality; balanced; elegant and long finish; extremely subtle oak—just enough for touch of oak spice, like a beautiful woman with blush of makeup to deftly accentuate her inherent beauty. Lean, clean, crisp. The entire experience is one of elegance and refinement rather than power. This wine does not have to scream WINE! CHARDONNAY! It resembles high quality white Burgundy, not your over-oaked, over-buttered, over-alcoholized California cartoon chardonnay. Audrey Hepburn in Breakfast at Tiffany's rather than a Pamela Anderson-Tommy Lee video.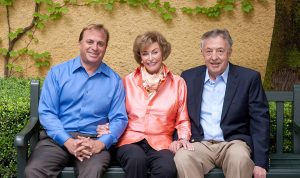 Jordan founders Tom and Sally Jordan established the vineyard and winery in 1972 with a clear vision to craft wines modeled on the great estates of France and marrying food, wine, and hospitality. They aimed at a Bordeaux-style cabernet sauvignon that would be enjoyed young, and they succeeded. They also built a 58,000 square-foot winery chateau in Sonoma's Alexander Valley that combined winemaking operations, guest suites, kitchen, and dining areas under one roof (that's the illustration on the label). Then they added chardonnay—this excellent, refined effort.
If you get a chance to visit in Healdsburg and the Jordan vineyard and winery, do so. The operation involves some 1,200 acres of rolling hills and vineyards, with three-quarters preserved as natural habitat for oak trees, geese and ducks, rabbits and turkeys, two lakes and several grazing pastures to support Jordan's sustainable farming practices. Oh, and you can enjoy library tastings of some really good wine, too.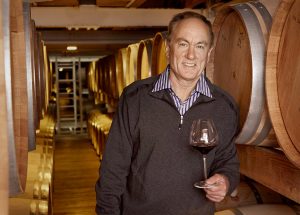 The operation now is guided by second-generation vintner John Jordan and Rob Davis. Davis has crafted every vintage of Jordan wines since the first one in 1976. Davis is an avid baseball fan, and he says the best compliment he has received about his wine is, "Jordan aims for the fence and clears it easily." I agree, especially if you are into elegant, refined efforts such as this one. The cab is pretty great, too, but that is for another tasting note.
Jordan Russian River Valley Chardonnay 2015 oozes delicate elegance and classy restraint, allowing chardonnay to present without tarted up, artificial extras. Pair with seared crab, red snapper, abalone, lobster, salmon, asparagus with blood orange and toasted hazelnuts, braised fish, ceviche with avocado cucumber relish, fried chicken wings, quail, lighter seafood, garden and summer salads. Or sip solo to taste chardonnay as chardonnay. $31-32
Jordan website with some great videos
Story and interview with Rob Davis