Deep ruby color; cherry, blackberry, dark fruit on the nose; dark fruits, dark cherry, blackberry, plum, vanilla on the palate.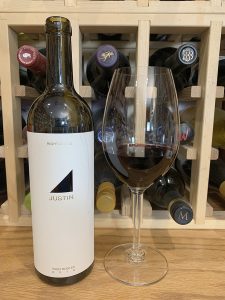 Dry; assertive, bold red with moderate acidity (3.61 pH) and tannins. Bold, but also an easy drinker. Full-bodied, fulsome presentation of red wine. Well structured. Blend of 61% cabernet sauvignon, 23% malbec, 9% petite sirah, 7% petit verdot. Fermented in stainless steel open and closed-top tanks. Twice daily pump overs. Barrel aged for 18 months in American oak, 25% new. 15.5% ABV
Justin and Deborah Baldwin purchased their estate in 1981 and planted 72 acres in wine vines. Initially, they were only grape growers, but in 1987 they ventured forth and bottled their first wines under the Justin label. Their vineyards benefit from the influence of the Pacific Ocean, just eight miles away. Paso Robles as a whole benefits from extreme diurnal shifts—100-degree days plunge, at times, to 50-degree nights. The heat ripens grapes and accents vivid fruits, while the cool preserves acidity. Many of the best wine vine-growing regions benefit from this contrast between hot days and cold nights.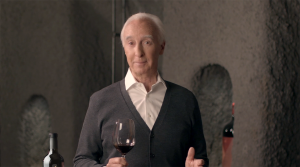 Justin wines reflect Paso Robles ascendant qualities, which is why some call the region the next Napa. The major Paso Robles wines are cabernet sauvignon and zinfandel. Merlot, petite sirah, petit verdo, syrah, and grenache also do well in this Central Coast region. Now sauvignon blanc joins the list. The common theme is fruit-driven wines with welcomed balancing acidity. Fred Holloway is vice president of production and winemaking. Scott Shirley is the winemaker.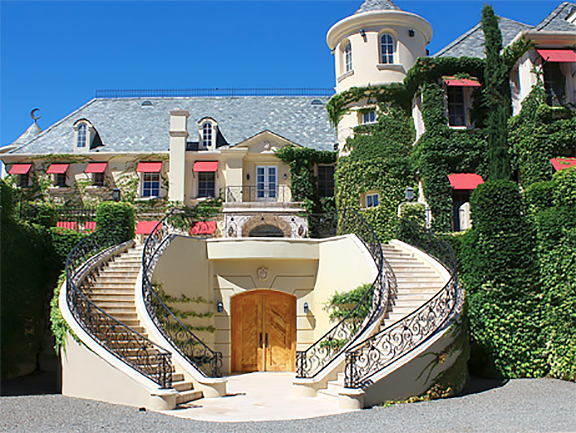 Give the Baldwins credit for building a winery of deserved reputation and respect. Paso Robles fancies itself as a rival to Napa and Sonoma, and Justin is part of the reason that is becoming a valid discussion. Justin Baldwin, by the way, is delightfully playful, hip, humorous. He has a series of videos on the winery website that present the bare basics of wine—from storage, to decanting, to food pairing. They are done in a light, airy, whimsical style that showcases Justin's engaging personality. Give the site a visit and the videos a look.
Justin Right Angle Paso Robles 2019 is bold with layers of flavors from an intriguing mix of dark Bordeaux fruits. Substantial wine; simpler than some of Justin's other offerings—Isosceles, Justification, and higher end cabs—but at up to half the price. Pair with beef; lamb; veal; wild game; charcuterie board with dried cherries, almonds, Italian sausage. Cheese—hard and semi-hard cheeses. $35-40
Justin Right Angle Paso Robles 2019