Deep ruby color; cherry, plum, raspberry, cranberry, nutmeg on the nose; cherry, plum, blackcurrant, blackberry, black olive, cranberry, raspberry, chocolate, spice on the palate.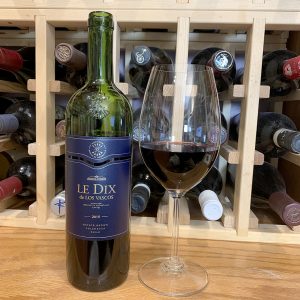 Dry; nicely refined tannins—no decanting needed. Smooth, elegant, beautiful. Medium body. Balancing acidity. Blend of 85% cabernet sauvignon, 10% carménère, 4% syrah sourced primarily from 80-year-old single vineyard—"El Fraile" [The Monk]. Spends 18 months in French oak, 50-75% new, however oak is not a dominant element of this pour. Nicely extended finish with delicious, juicy elements persisting from initial attack all the way to the end; 14.5% ABV.
Le Dix de Los Vascos is a brand of Les Domaines Barons de Rothschild (Lafite). Introduced in 1996, Le Dix is French for "10" and celebrates Domaines Barons de Rothschild (Lafite) first 10 years in Chile. Los Vascos is located in Valley de Caneten, a closed valley in the central zone of Chile, 25 miles from the sea. With 5,400 acres—1,300 planted in wine vines—Los Vascos is the largest vineyard in the Caneten Valley of Colchagua.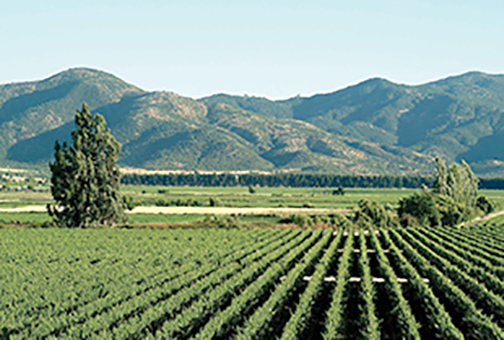 The website comments on selection of this vineyard: "Many properties were visited and many wines were tasted before choosing Los Vascos, because of its location near the ocean and its exceptional soil. Along with ideal weather conditions, Los Vascos benefits from intense exposure to the sun, adequate water sources, semi-arid soils and little risk of frost. At an average of 130 m above sea level and at just 40 kilometres from the Pacific Ocean, the microclimate of Viña Los Vascos has everything to produce fine wines."
This has Bordeaux feel with Chilean vibrancy—likely the carménère influence. Winemakers are Macelo Gallardo and Olivier Tregoat. They have made a classic wine, impressive in quality and price—you could easily pay double or more for this quality from France. At five years, it is just entering its drinking window. My patience paid off. The smoothness and integration without decanting was wonderful revelation.
Le Dix de Los Vascos, Colchagua, Chile 2015 is rich, impressive, complex, smooth, supple crowd pleaser. Drinks like a stellar Bordeaux at twice-plus the price. Deliciously juicy and well behaved from start to finish. Pair with red meats, but tannins are not assertive enough for very rich, heavily marbled steaks; rich fish—salmon, cod; lamb; veal; pork; pastas with red or white sauces; range of cheese. This is tasty with depth and deliciousness and easily be enjoyed on its own. Superb effort from Chile. $55-65