Deep ruby color; black cherry, cranberry, blackcurrant on the nose; black cherry, plum, chocolate, baking spice on the palate.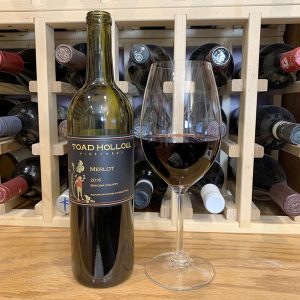 Dry; soft tannins, good acidity (3.54 pH), balanced. Easy drinker with merlot mellowness. Soft, gracious, well behaved. Owner Frankie Williams notes on the website: "Our 2016 Sonoma County Merlot follows in the Toad Hollow tradition of over delivering well-made and luscious wines. Because the vintage was nearly picture perfect, this Merlot flaunts the classic characters that make this variety so appealing—aromatic red fruits, gentle tannins and a soft finish. I love our Merlot with a flat-iron steak served with a dollop of blue cheese!" 14.3% ABV
The Toad Hollow name comes, according to the winery's charming website, from original owners. Two friends, Dr. Toad (Todd Williams) and The Dancing Badger (Rodney Strong—he was a former dancer and choreographer), decided to start a winery in 1994 instead of retiring and rusting away. It remains family owned, although—from the website: "Heaven is a livelier place these days as both Dr. Toad and Mr. Badger have left their wine glasses with us here on Earth, but we know that these fine gentlemen toast us regularly, as we do them!" A couple of years ago, Frankie Williams entered into a marketing and sales agreement with Delicato Family Vineyards to achieve more distribution, but Frankie retains 100% ownership of Toad Hollow Vineyards.
Regular readers know of my admiration of Toad Hollow's president Frankie Williams. Francine "Frankie" Williams has a colorful history that includes working for the CIA. She arrived in California in 1972 and met Dr. Todd Williams. They married in 1978 and operated a San Francisco bar named "Toad Manner." Later, they opened the Whiskey River Inn in the Sierra Foothills before moving back to Sonoma and Healdsburg, where Frankie helped manage a law firm. Then came the wine operation.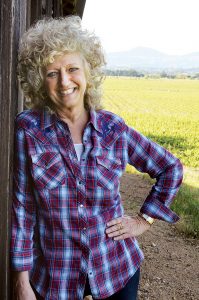 After Todd passed on in 2007, Frankie vowed to continue and now enjoys her days surrounded by Russian River Valley vineyards and her long-time staff. They source chardonnay from Mendocino County, pinot noir from Monterey, cabernet sauvignon from Lodi, and dry rosé from Sonoma's Carneros. The grapes for this effort came from Russian River Valley and other Sonoma County sites.
Website notes: "Sonoma County received normal rainfall in 2016. It was balanced and consistent throughout the winter and springtime which kept the soil moist throughout the growing season. Moderate temperatures and bright sunshine enabled the vines to thrive throughout the spring and summer which all contributed to a balanced, optimal growing pace and normal yields."
Toad Hollow Vineyards Merlot Sonoma County 2016 is pure merlot play with easy going plushness and softness you want and expect from a 100% merlot. This is not complex or layered or deep. It is simply good tasting merlot for an easy-on-the-wallet price. Easy is the adjective that keeps popping in the mind. Easy pairing with pizza; meatloaf; pot roast; chicken fried steak; mac and cheese; leg of lamb; herbed chicken; burgers, sliders, comfort food in general. $16-17