Medium gold color; white peach, pear, apple on the nose; green apple, white peach, pear, lemon, vanilla on the palate.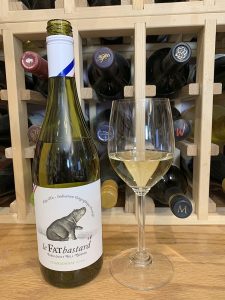 Dry; round and rich with full body and adequate acidity. Vivid, tasty fruit; integrated oak. Some buttery notes even though the winemaker avoided malolactic fermentation to preserve acidity and clarity of the fruit. Nice balance with some complexity. 12.5% ABV
Vineyards are in the Languedoc-Roussillon along the banks of the Rhône River in the east, Carcassonne in the west, the foothills of the Massif Central in the north, all the way to the Mediterranean coast in the south. Grapes are sent to crusher-de-stemmer, and there is brief skin contact. Grapes are gently pressed, then fermented in temperature-controlled stainless steel tanks. Aged on the lees to add depth. A percentage of the wine is oak-aged prior to bottling.
The brand began in 1995 as a collaboration between noted French winemaker Thierry Boudinaud and British wine importer Guy Anderson. The company is called Thierry & Guy. The first wine was a chardonnay experimentally aged on the lees. The story goes when Boudinaud tasted the wine, he proclaimed: "Now zat is what you call eh Phet bast-ard wine!" The name attracts attention and also functions as a pun, alluding to the buttery taste that is similar to the famous French appellation "Bâtard-Montrachet." The brand was introduced in 1998. Some five million bottles are exported to the U.S. each year.
The winery purchases grapes and makes wine, it does not grow grapes. Véronique Torcolacci is the long-time head winemaker. The website notes: "She works hand in hand with the growers of the Languedoc region to guarantee the consistently excellent quality of FAT bastard wines vintage after vintage. With this emphasis on quality, the wines are remarkably accessible with a vibrant, fruit-forward style: serious wines that take them not too seriously!"
le Fat bastard Chardonnay 2020 is a creamy easy drinker with excellent fruit, good acidity, and a nice squeeze of lemon on the finish. Not an epic chardonnay with layers of depth and complexity, but an epic value that often can be found on sale. Excellent for slurping well chilled on a warm summer day on patio, porch, picnic, or poolside (in plastic cups, please). Works, too, at a sunset soirée on the backyard lawn. Works as an aperitif. Pair with seafood—baked salmon, grilled tuna; chicken; veal; pasta dishes with white sauces; vegetarian fare. Cheese—will pair with almost any cheese, fresh goat cheese, aged gouda or gruyere, blue cheese, fontina, havarti, triple-cream cheese, brie, Monterey jack. $10-12
le Fat Bastard website; includes clever video
The Thierry & Guy/le Fat bastard website has some clever cartoons and a video, but it does not have photos of the winery or the principals in the business.