Pale straw color; white apple, citrus on the nose; Granny Smith apple, hint of honey, lilt of lemon, orange peel on the palate.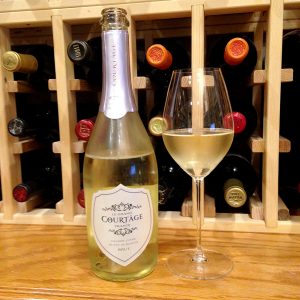 Brut; fresh, crisp, very light, steady stream of tiny bubbles, clean presentation of light fruit flavors. Sharp acidity (3.3 pH) bodes well for food pairing. Zippy, zesty on mid-palate through the finish.
Tawnya Falker was a designer/developer in California until she decided to move to Nuits-Saint-Georges in Burgunday, France to start a new brand—Le Grand Courtâge. Long ago, when a boat left on a long voyage, it was called a "courtâge," and Falker chose the name to identify her journey through life. In addition, "courtâge" means "the great courtship." Falker says the name explains the union of French and American wine cultures, old world and new world, and grapes from various terroirs.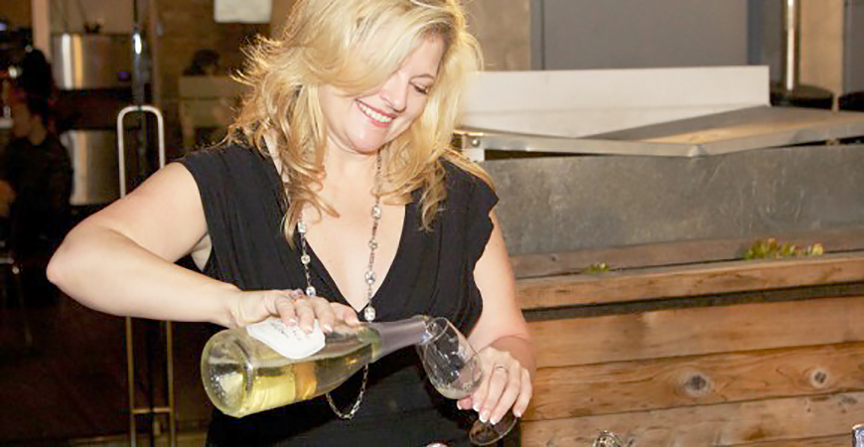 The back label proclaims Falker's approach: "Embrace life. Dream big. Accept all invitations." She explains the back of every bottle communicates the "hope of reminding people to never stop pursuing their passions, celebrating the every day, and appreciating life's gifts. For me, it's about trying to maintain a 'champagne state of mind' and enjoying a glass of wine with family and friends, or while enjoying a warm bubble bath or reading a book in a hammock."
Le Grand Courtâge Grande Cuvée Blanc de Blancs Brut NV is versatile, very approachable effort. It clearly is made to target Millennials with the dryness of a brut, but with enough of a hint sweetness to pleasure your palate. The citrus and lemon give it a note of sharpness that works well with the nice fruit. Think the sharpness of Granny Smith apple rather than the overt sweetness of Fuji or Red Delicious. Works as an aperitif, pair with savory hors d'oeuvres, creamy pastas, semi-soft cheese, spicy dishes, Asian fusion, popcorn, fruit-based deserts. $18-20