Medium purple color; raspberry, cassis, bell pepper on the nose; sour cherry, strawberry, raspberry, blueberry, roasted bell pepper, blackcurrant tang, cocoa, baking spices on the palate.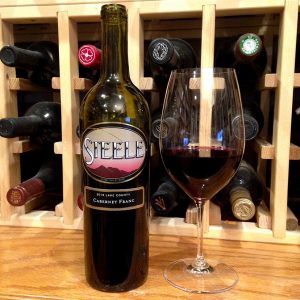 Dry; dusty, grippy medium tannins; medium acidity; plenty of bold ripe fruit flavors; some minerality. Noticeable but not annoying oak and oak spices. Nice concentration, depth, and balance. Significantly benefits from decanting, which smooths and integrates its layers of fruit and tannin.
Cab franc is the third grape in many Bordeaux blends and sometimes is called "the other cabernet sauvignon." It should be the other way around. DNA tests show cab franc is the parent grape of both cabernet sauvignon and merlot. Cab and cab franc flavors are similar, with cab franc falling between cabernet sauvignon and carmenere. Since it ripens earlier than cab and merlot, cab franc sometimes also is called the "insurance grape," particularly in the cooler climates where cab franc best achieves its potential.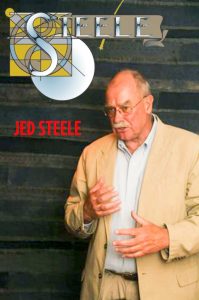 Winemaker and owner Jed Steele's career began in the cellar in 1968 at Stony Hill in the Napa Valley. He earned an enology degree at U.C. Davis, spent time at Edmeades in the Anderson Valley, then moved to become the founding winemaker and vice president of production at Kendall Jackson. Steele Wines celebrates its 27th anniversary in 2018; Jed's son, Quincy, continues the tradition with his father.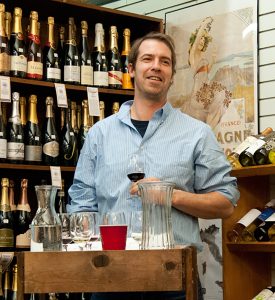 Steele has four labels: Steele, Shooting Star, Steele Stymie, and Writer's Block. The winery focuses on making smaller lots, less than 2,000 cases. Steele notes: "This reflects my fascination with many diverse varietals and vineyard sites. And staying small means we can practice true craftsmanship in the production of all our wines."
Lake County is one of the smallest inland wine regions in California, bounded on the west by Mendocino and Sonoma counties and by Napa to the south (it was part of Napa until 1896). Vineyards are squeezed around steep hills near the shore of Clear Lake, the largest natural lake in California—25 miles long—next to an extinct volcano. The lake and vineyard elevations make this one of the coolest wine regions in California.
Steele began buying cab franc grapes from Floyd Silva's vineyard in 2005, and purchased the vineyard after Floyd's retirement. The vineyard now is called the Stymie Bench Vineyard. It lies on a gravely bench located in the Kelsey Bench AVA of Lake County. The northern location and vineyard elevations up to 2,700 feet contribute to the warm days, cool nights that brings out the best in cab franc.
Steele Wines Lake County Cabernet Franc 2015 is well made cab franc from a cab franc-friendly vineyard. It brings power and some herbaceous friskiness to pop and pour; decanting clearly enhances this effort. Pair with rich meats, grilled beef, barbecue, beef stew, pizza, hamburgers and sliders, roast pork, sausage, lamb, roast chicken, dusk, wild game hen, grilled portabello mushrooms, hearty fish dishes, goat cheese, camembert, feta, fontina, cheese and spinach quiche. $18-19