Pale gold color; peach, tangerine, orange, apricot on very vivid nose; tangersine, peach, lemon-lime, Mandarine orange, apricot, pear, melon on the palate.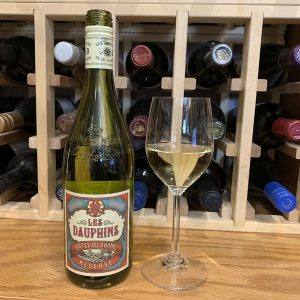 Dry; crisp, zesty, clean. Good acidity. Virtually no tannin or oak. Blend of viognier, marsanne, grenache blanc; 12.5% ABV. This is crowd-pleaser—people not really into wine will enjoy. Its light vivacity is the major note. Summer fruit flavors. Excellent, expressive nose.
Les Dauphins created a collection of Côtes du Rhône Villages wines for the U.S. market. Beautiful, eye-catching labels. All the wines are made with certified organic grapes taken from vines in the southern Rhône with an average vine age of 30 years. The winery was named Rhône Winery of the Year at the New York International Wine Challenge in 2016 and Rhône Winery of the Year at the 2015 New York International Wine Competition. The Challenge and the Competition are different events, both are very influential in the wine trade, so clearly Les Dauphins is doing something right—this bottle is a fun example.
Les Dauphins Côtes du Rhône Reserve Blanc 2017 is clean, refreshing. Simple, very easy drinker. Nice, light texture in the mouth. Fun-to-drink thirst quencher. Serve well chilled as an aperitif. Unoaked whites are extremely versatile for food pairing. Pair this with chicken with creamy sauces; including chicken salads with fruits; mildly spicy noodle dishes like Pad Thai; lamb with apricot sauce; rich shellfish—seared scallops, grilled lobster, baked crab; creamy and buttery cheeses. $10-14