Deep ruby color; cherry, plum, vanilla, herbs on the nose; cherry, plum, chocolate, cedar, smokey oak on the palate.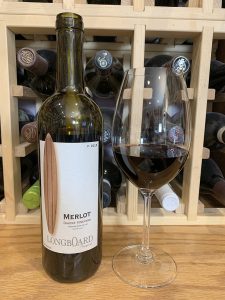 Dry; very smooth easy drinker; relaxed tannin and soft acidity (3.79 pH). Blend of 87% merlot, 13% malbec; 100% from Russian River Valley, 100% from DaKine vineyard. Robust, especially for a predominantly merlot pour. Tobacco and oak influence from 24 months in French oak. 13.9% ABV
Oded Shakked is the owner and winemaker. He was born in Israel; his parents were of German and Czech origins. The family spent two years in Uruguay and a year in France. By age 12, he was fluent in Hebrew, Spanish, and French. After mandatory service in the Israeli Defense Force, Shakked built surfboards for a living—thus the wine label—and surfing trips exposed him to grape growing and winemaking. One thing led to another, and he enrolled in the winemaking program at UC Davis, graduating in 1988.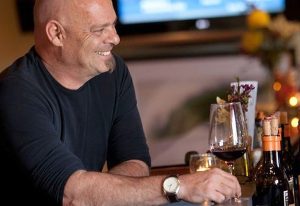 Shakked interned at Domain Chandon in Napa and with Chateau Lafite-Rothschild. He then moved to Jordan Vineyards, where he became the head winemaker. He worked at Jordan for 18 years. Shakked established Longboard Vineyards in 1998 with a focus on merlot, malbec, syrah. In 2005 he bought the Three Palms from the Mondavis and began farming grapes. Shakked named the vineyard "DaKine" (pronounced Dah-kain), a Hawaiin-Creole expression that could mean almost anything—sort of like "watchamacallit"— and can describe anything, such as terroir.
Longboard's fact sheet notes: "Oded takes great pride in being a family man, a farmer, a scientist, an artist and an (old) surfer and loves to put his 'Sabra' can-do attitude to good use when consulting with other wineries around the globe."
Longboard Vineyards Merlot, DaKine Vineyard, Russian River Valley 2016 is a quality, interesting, largely merlot effort. Plenty of dark fruits, oak, and chocolate. Quality wine from an accomplished winemaker. Pair with red meats—filet mignon; beef in general; veal; venison; salmon or tuna carpaccio served as an appetizer. $31-40