Dark violet-black color; blackberry, black cherry, cassis on the nose; intense blackberry, dark cherry, plum, smoke, earth, black currant on the palate.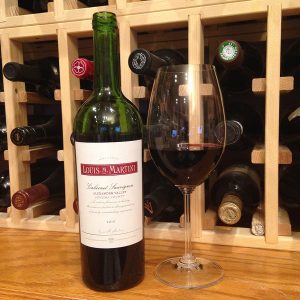 Very ripe fruits, vivid flavors; assertive tannin; rich in the mouth; nice structure with admirable acidity for a red this bold (3.55 pH); layers of cedar and oak from 14 months in new and used French, American, and Hungarian barrels.
Blend of 90% cabernet sauvignon and 10% petite sirah, with the petite sirah adding to the black cherry and intensifying the dark fruits and brooding power of this effort. That said, it flirts with being too much—too dark and heavy and muscular. Hints of fruity sweetness do an intervention to pull back from this abyss, and surely many—including me—enjoy dark and serious wine, but this emphatically is not an etherial pinot noir or bouncy Beaujolais, so be forewarned.
Louis M. Martini is a big-production winery that consistently delivers and often over-delivers. The winery was founded in 1933 by Louis M. Martini. The Martini family's grape legacy goes back to 1911, when Louis M. made wine in a rented facility. During Prohibition, Louis M. produced sacramental and medicinal wine, as well as grape concentrate for legal in-home winemaking. The L.M. Martini Grape Products Company came to Napa in 1933 as one of the original five Napa post-Prohibition wineries. Martini added acreage in Sonoma's Mayacama Mountains in 1938. In more recent times, it was led by third-generation vintner Mike Martini
The Martini family owned and innovated until 2002, when the Gallo family purchased the winery and vineyards, but Gallo wisely kept Martini personnel, including grandson Mike, in the mix. The result is a range of superb wines rooted in two iconic Italian family traditions.
With this bottling, Michael Eddy takes over operations after Mike Martini's retirement. Eddy celebrates his decade of learning from and working with Mike Martini. Ascendant in the Gallo group, Eddy oversees production at Louis M. Martini, William Hill Estate Winery, and Gallo of Sonoma. He also collaborates with Gina Gallo on the Gallo Signature Series. The torch has been passed.
Louis M. Martini Cabernet Sauvignon Alexander Valley 2013 overflows with dark fruits and starts with assertive tannins—decanting nicely puts them in a better place. Some fruit sweetness on the finish, a hallmark of successful big-production wines, will please many sippers. Widely available, clearly worth a taste. $29-34
Photos: Martini winery entrance, Martini vineyard, winemaker Michael Eddy, Louis M. Martini tasting room