Pale yellow color; flinty focus of lavender on the nose; apple, hint of orange, nectarine-tangerine, lemon-lime on the palate.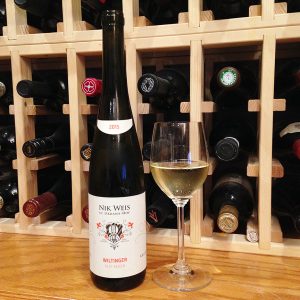 Off-dry Kabinette, which means hint of sweetness, but sweetness derived from fructose from unfermented grapes juice, which is lighter and much more nuanced than the sweet plonk produced by adding sugar (chaptalization). According to the winemaker Nik Weis, "Just as Champagne needs bubbles, Mosel wine needs some sweetness." There is a whisper of sweetness here, but it is wonderfully subtle and nothing, nothing like the treacly sweet and cheap wines sometimes shamelessly proffered as riesling.
This is a great food wine with superb acidity. Purity, precision, and focus are the signal characteristics. It is lean, light, elegant, brisk with delightful finish evoking flowers on the palate—reflecting how aroma and taste are organically bound together in wine. The finish also nicely flirts with salt and minerality.
The Wiltinger Schlangengraben vineyard is located in the heart of Germany's Saar Valley. According to the winery website: "It's a picturesque vineyard site from which one has a beautiful view over the entire valley. The word 'Schlangengraben' means Snakepit. There are no snakes around in this vineyard and there is also no pit, but one does find a little canyon bordering at this vineyard. There are also numerous little lizards that are running over the hot slate stones. Vines and reptiles have one thing in common: They love a warm and humid environment. This is what the climate in Weingut St.Urbans-Hof 's 9 hectare parcel is like. The site is entirely turning towards south and the soil is well supplied with water. Even after several weeks of drought little sources appear on the foot of the hill. The vines never suffer from lack of water. The slate soil in this vineyard has a red colour, which comes form its iron content. It's the iron that gives the wines that grow here their fine herbaceous and spicy character."
Nik Weis is third generation of his winemaking family, and Wiltinger is the second-largest family-owned and operated winery in the Mosel. In an interview, Nik Weis summed up Mosel riesling: "The great reputation of the Mosel is based on the top vineyard sites that are located on steep slopes and where the vines grow on a fantastic highly decomposed slate soil. Given the fact that the vineyards are extremely steep, we will never be able to compete with the production costs of other wine regions where viticulture is done on flat land. We only have two choices: Make the effort and practice an intense, expensive and thoughtful viticulture in order to achieve a wine quality that is so good and a wine style that is so unique that people are willing to pay a higher price for the wines and for all these efforts it takes to produce them, or we just let goats graze on the slopes and we produce goat cheese." Happily, Nik Weis decided to produce superb wine and let others do goat cheese.
Nik Weis St. Urbans-Hof Wiltinger Alte Reben Mosel Riesling 2015 is wonderfully focused and precise in flavors; it is why Mosel riesling commands respect and higher costs because you don't get anywhere near this clean quality with commodity riesling. $19
http://www.urbans-hof.de/
Photos: winemaker Nik Weis, Wiltinger Alte Reben vineyards