Medium gold color; yellow apple, bread, lemon, subtle oak on the nose; yellow and green apple, lemon tart, citrus, brioche, saline on the palate.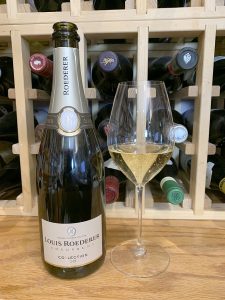 Brut; chardonnay dominates the palate. Blend of 42% chardonnay, 36% pinot noir, 22 % meunier. The 242nd Roederer harvest, in 2017 provided 56% of the juice. The perpetual reserve provided 34% of the wine (2012, 2013, 2014, 2015, 2016); reserve wines aged in oak provided 10% (2009, 2011, 2013, 2014, 2015, 2016). The grapes came in equal parts from Roederer's estate vineyards—La Rivière, La Montagne, La Côte. 12% ABV
Medium-full body. Rich and creamy in the mouth. Responding to changes in climate and a greater emphasis on sustainable agriculture and non-chemical elements in the vineyard, Roederer adapted its vineyard management and winemaking to strive for greater freshness, and this achieves that goal.

The website notes: "Six years ago, a crucial decision was taken to change the process of buying Roederer's Pinot Noir, Chardonnay, and Meunier grapes. Now, the house no longer buys grapes but rather rents plots under long-term contracts in chosen sites, 'where the soil gives us the identity we are looking for.' The enologist in charge of the program reviews the plots three times a year to discuss the current growing conditions with the grower partners. As well as drawing as deeply as possible on the 'reservoir of freshness' in the vineyards, the Lécaillon team, with the full support of CEO Frédéric Rouzaud, decided to create a perpetual reserve, half Pinot Noir, half Chardonnay, some 15,000hl (more than 396,000 US gallons) in total, with very little oxygen ingress. Reductively aged non-malo wines gives beautiful freshness here."
Their website continues: "The finest works are often forged by constraint and adversity. Driven by a new energy, we decided to reinvent our blends, reshape our know-how and rethink our methods in order to fall into step with Nature's new tempo. The creation of Collection was therefore something we had to do. It is an evolution in structure, form and style. The start of a new chapter in the story of our Champagne House that we are continuing to write with passion."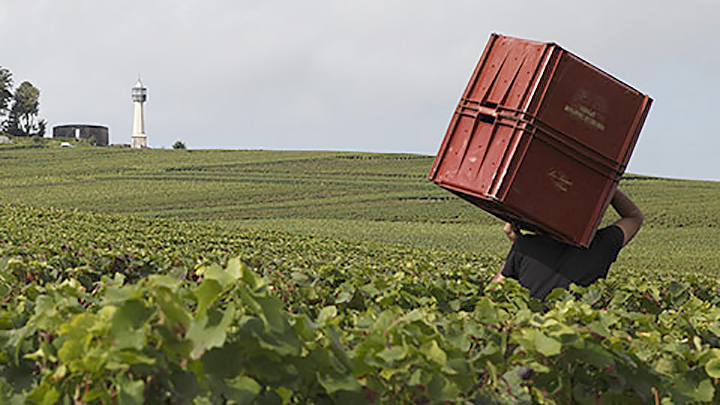 Key elements of this change in approach include an emphasis on sustainable growing practices and redefined plots that emphasize "Cœur de Terroit" ("heart of the terroir). Starting with the 2012 vintage, they created a "perpetual reserve" in large-capacity stainless steel tanks. The perpetual reserve, according to Roederer, "brings new tasting sensations, both tactile and gustatory: the wine acquires more breadth, depth, substance and contrast; its texture is fleshier and more enveloping, adding to the overall complexity."
The house also has significantly increased the proportion of oak-aged reserve wines in their blends. Blending is key here. The name "242" references the Champagne house's 242nd blend since its foundation. The shift reflects a decision not to rigorously pursue a set style, "but to give ourselves the freedom to create the blend on the basis of whatever Nature gives us. Each Collection blend therefore has its own identity which will gradually and fully reveal itself over time."
Louis Roederer Champagne Collection 242 NV is fresh and vibrant multi-vintage effort that employs a solera-style system and reserve wines aged in oak. The effort is this venerable and distinguished house's strategy to deal with global warming. It also is vision to create a NV sparkling that becomes increasingly complex with each subsequent harvest. The problem in the past was getting ripeness. The problem today, with warmer temperatures, is to preserve freshness. This is Roederer's solution. It is all the sharpness, precision, and chardonnay flavor you expect. Well worth a sip. Obviously works on its own as a toasting beverage and celebration libation; pair with pork; rich fish. Shoot, this is quality sparkling, it will work with almost anything. $52