Deep gold color; yellow apple, quince, tropical fruit on the nose; honeydew melon, lemon, lime, apple, pineapple on the palate.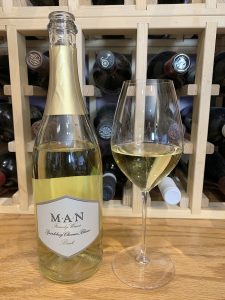 Brut; vibrant with chenin blanc's natural acidity. Fresh, clean, fruity through the finish. Vigorous and surprisingly persistent bubbles. This was made in the lowest-end of the three main ways for sparkling. Still wine is cold fermented in stainless steel to preserve fruit and crispness, then moved to a pressure tank and carbon dioxide added. This is different from the traditional method where secondary fermentation occurs in the bottle, and is different from charmat/tank method most often associated with Prosecco where the second fermentation occurs in a stainless steel tank; 12% ABV.
In the third method, which appears to have been used here, CO2 is added, same way soda pop gets it fizz. That also is the way lower end, commodity sparkling is made. That said, this is not painful plonk sparkling. It is light and pleasant in the mouth with brisk acidity and high carbonation. MAN Vintners know how to grow great chenin blanc. Chenin blanc—also known as "steen" in South Africa—is the principal white grape of South Africa.

The winery is a collaboration between José Conde and brothers Tyrrel Myburgh and Philip Myburgh. Conde spent 10 years in New York City and five in Tokyo, then realized he really wanted to live in a small town at the tip of Africa. The website notes: "He is the owner/winemaker of the award-winning Stark-Condé Wines in Stellenbosch, his Cabernet Sauvignons have 5 times been chosen as Platter five-star wines and twice received the Six Nation Wine Challenge Trophy for Best Cabernet Sauvignon."
The website presents its story: "We are José Conde and brothers Tyrrel and Philip Myburgh. We started making wine together in 2001. We're further supported by a group of dedicated grape growers from the Agter-Paarl region.  From our first 300 cases made in a tractor shed, we have grown to producing over 250 000 cases per year and exporting to 25 countries."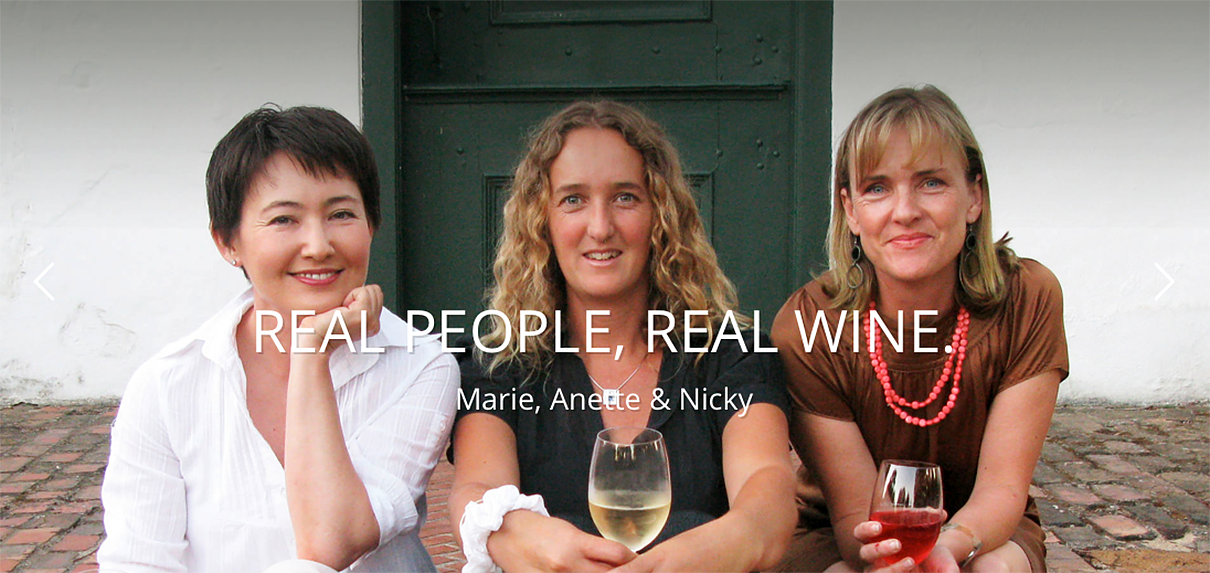 The website explains the winery name: "We wanted quality wine that offered excellent value and great packaging. Not exactly an epiphany, perhaps, but enough to motivate us into action. Of course, first we had to come up with a name. To keep peace in the families, we took our wives' initials (we each have one wife)—that is how we explained to Marie, Anette and Nicky that we were going to be 'busy' most weekends. 'It's for you!' we told them. And mostly it's true."
M•A•N Family Wines MAN Vintners Sparkling Chenin Blanc Brut NV is bright, light, spritely. Exciting presentation of South Africa's signature white grape in sparkling form. Plenty of value in this effort which employs the "low end" way to make sparkling wine with verve and impressive success. Works as an aperitif—hard to find a sparkling that does not—and flaunts chenin blanc's ability to achieve delicious fruit.
Chenin blanc classically pairs with salads and vegetables. Also with chicken—pecan-crusted chicken with Dijon mustard cream sauce and gruyere cheese. Also pairs with egg dishes. $16
U.S. importer website, MAN winery pages