Gorgeous deep ruby red color; cherry, strawberry, raspberry nose; cherry, pomegranate, watermelon on the palate.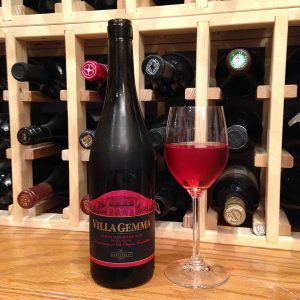 This is something of a hybrid rosé. Montepulciano juice is left on the skins for eight hours to impart its vividly ruby color—as dark a rosé as you will find (montepulciano is notable for its strong color). This creates a wine that has more red wine characteristics than rosé, but crisp acidity pulls it back into the rosé niche. Montepulciano typically has soft flavors and gentle tannins, and this fits that profile.
Very dry with significant acidity, some sourness on the finish which you will either find intriguing or bothersome, depending on your taste, but overall this certainly will go well with food, including red meat, thanks to the acidity.
Masciarelli Tenute Agricole began in 1981 by Gianni Masciarelli, a promoter of modern wine production in Abruzzo. The center of the operation is the winery in San Martino sulla Marrucino in the province of Chieti and includes some 300 acres of vineyards and olive groves in 13 municipalities in all four provinces of Abruzzo in central Italy, east of Rome on the Adriatic coast.
Gianni died in 2008, but his wife Marina Cvetic continued the operation as owner, winemaker, and operations manager. The winery today has 18 labels and five product lines: Classic Line, Gianni Masciarelli, Villa Gemma (this is example), Marina Cvetic, and Castello di Semivicoli with an annual production of more than 2.5 million bottles.
Masciarelli Villa Gemma Cerasuolo D'Abruzzo Rosé 2015 is distinctive rosé with its dark ruby color; crisp acidity makes this a nice pairing with food; well worth a try to experience something new for you in rosé. $14-15
Other photos: Gianni Masciarelli, Marina Cvetic