Intense ruby-garnet color; black fruits, coffee, toast on the nose; blackberry, red currant, dark cherry, plum on the palate.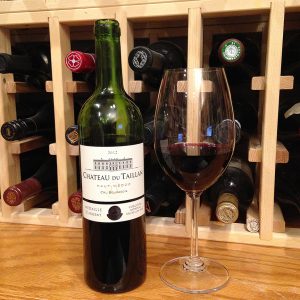 Clean expressions of 70% merlot, 20% cabernet sauvignon, 10% cabernet franc. In the first glass, there is some bite on the finish from red currant from the cab and sour cherry from the cab franc, but that mellows out as wine evolves. Decanting smooths out everything very nicely and is advised. The tannins are sweet from the beginning abetted by balancing acidity. Eighteen months in oak give this a smoky edge, again an element that evolves in the glass or grows more nuanced upon decanting. Medium body; overall a very satisfying Haut-Médoc offering with structure and depth; long, sophisticated finish where the tang and sour cherry linger as intriguing memories of the initial attack.
Château du Taillan is owned by five sisters, the fifth generation to operate the château since Henri Cruse obtained the acreage in 1896. It lies at an entryway to the Médoc and often is regarded as one of the most beautiful properties in the Gironde. The château dates from the 18th century; its underground cellars are listed as a French National Heritage Site. Château du Taillan has produced this Cru Bourgeois since 1932.
Haut-Médoc is the large southern sector of Bordeaux; it accounts for more than two-thirds of the Médoc and is home to four famous Bordeaux regions—Pauillac, Margaux, Saint-Estephe, and Saint-Julien, as well as the less-well regarded Listrac and Moulis. The remainder of the region falls in the general designation of Haut-Médoc, which includes the Château du Taillan estate.
Château du Taillan Haut-Médoc 2012 is very well done Haut-Médoc effort—which means you get to enjoy a quality merlot-led Bordeaux from a significant maker at an affordable price. Becomes smoother and juicy-sweeter with decanting (this is dry wine, "sweeter" refers to vividness of the fruit presenting as sweetness and softness, a characteristic of merlot). $20-25
Other photos: Château du Taillan, Château du Taillan rear and vineyard, Château du Taillan cellars, dining at Château du Taillan.