Medium straw color; citrus, yellow apple on the nose; grapefruit, Meyer lemon, yellow apple, lime on the palate.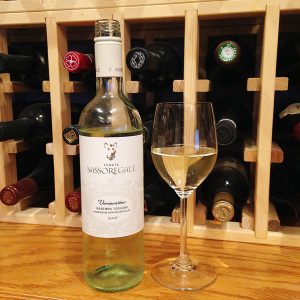 Dry; crisp, extremely clean and round, excellent acidity and minerality; classic grapefruit pith and pinch of salt arrive on the finish. Stainless steel, so pure fruit, no oak, no relevant tannin. Easy drinker.
The fruit and winery come from the rugged La Maremma region of southwestern Tuscany, well south of Florence and Pisa, a region of rolling hills and dense forests—Mediterranean scrubland overlooking the Tyrrhenian Sea.
Sassoregale posits itself as part of the wild and wooly Italian wine frontier between the sea and the high hills of Montalcino to the northeast. Same time, Sassoregale admirably aims at low environmental impact vineyard management and meticulous cellar operations. The point is, Sassoregale wants to tout its terroir, and the balance, power, and elegance of its wines. Their sangiovese provides balance and power; this vermantino provides some elegance and lithe mouthfeel and polished overall impression. Well played, Sassoregale.
Tenuta Sassoregale Vermentino Maremma Toscana DOC 2016 is strikingly clean, vivid presentation of vermentino in all its svelte grapefruit glory. The acidity and touch of salt/minerality makes is ideal pairing with raw oysters, grilled shrimp, richly seasoned foods like gumbo, fried calamari, and tomato-based pasta dishes. $16-18